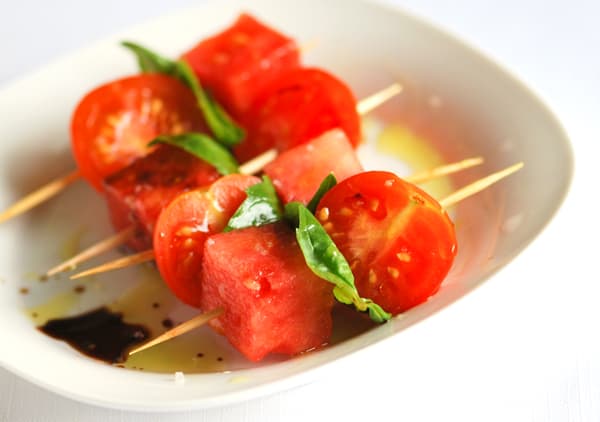 Try this for your next party, these watermelon and tomato skewers are easy and elegant.  Cubes of crisp seedless watermelon along with a basil leaf and fresh tomatoes are skewered then drizzled with thick sweet balsamic vinegar and fruity extra virgin olive oil.  The combination of flavors when you bite is unbelievably refreshing.

Watermelon and Tomato Skewers
You Will Need
12 half inch cubes seedless watermelon
6 cherry tomatoes, halved
12 small basil leaves
balsamic vinegar
extra virgin olive oil
course sea salt
12 medium length wooden skewers
Directions
For each skewer, start with a tomato half, add a basil leaf and cube of watermelon then drizzle with a little bit of balsamic vinegar and olive oil.
Finish with a light sprinkle of course sea salt.
Notes and Tips
For an extra kick, add a cube of feta cheese to each skewer.