From the moment I made lemon curd in my baking and pastry class, I knew a version would be making its way onto our blog. In culinary school a clean station with no dirty dishes are key, I will often get scolded by the Chef for having one to many used bowls on my station (not that I wasn't planning to clean them, he just has a knack of addressing the issue right before I go back to the sinks – Chefs tend to do that, you see).
When my group made our lemon curd, we were supposed to pour what would fit into a tart shell we prepared earlier then clean up all dishes in order to move on to our next recipe. The tart shell we prepared didn't require all of the lemon curd, leaving us with a dilemma (well, me with a dilemma). One of the first things you learn in culinary school is that you should bring a container (or two) from home so you can take home anything you have created or any leftovers from class. The day we made the lemon curd, the container that I had intelligently set aside to bring into class was on our kitchen counter at home. During this realization the Chef made it clear that once again, our stations should be clean and we must move on to the next recipe.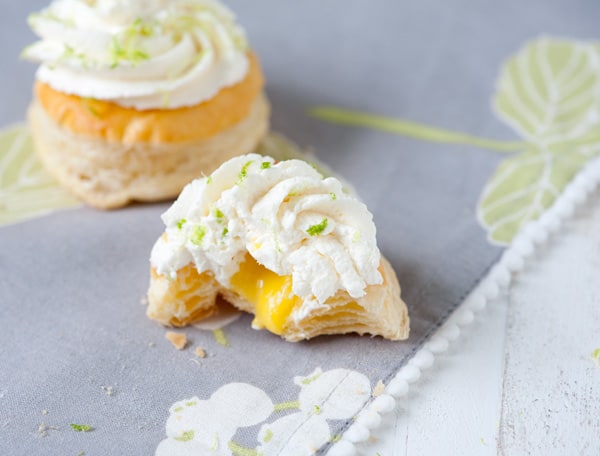 Now, you see my dilemma – How could I possibly throw away all that luscious, tart, buttery, sweet lemon curd? It wasn't the curd's fault that I forgot my container or that our tart shell was too small, it deserved to be eaten, deserved to be enjoyed. So, I did what any responsible human being should do in such a predicament – I found myself a spoon, stood tall and inhaled the rest of the lemon curd. I took action, no hesitation, without falter. Dilemma resolved.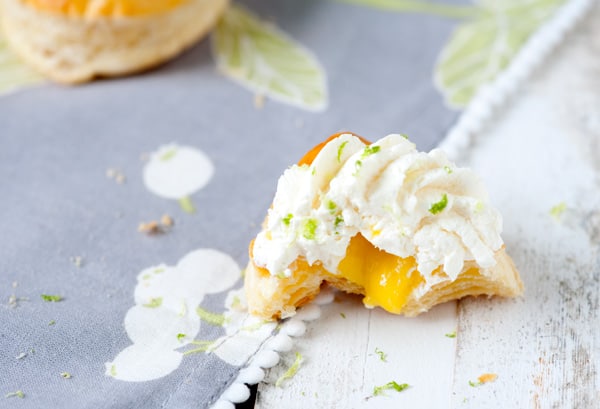 You would think that scarfing down a tart's worth of lemon curd would inhibit my yearning to make lime curd tarts, but no, it didn't, not even a bit. I did, however, make the decision to accompany the curd with a puff pastry shell and whipped cream – not bad, right?
The shells are made from store-bought puff pastry sheets, cut into rounds. I indented the middle of each round and used a fork to prick the middle so we could easily push down the middle in order to fill with lots of lime curd. You could also use the prepared puff pastry shells for this. Or, of course, forgo the puff pastry and whipped cream, grab a spoon and enjoy.
Other recipes from around the web that might entice you:
Lemon Curd by Joy of Baking (Video Demonstration)
Improved Lemon Curd by David Lebovitz (Uses Meyer Lemons!)
Tangerine Lemon Curd by Joy the Baker (Incredible Combination)
Lime Curd: Sweet, Tangy and Versatile by Honest Cooking

Fill pre-baked puff pastry shells with lime curd and whipped cream for lime tarts or spread lime curd on warm toast for a delicious breakfast.
Created By:
Adam and Joanne Gallagher
You Will Need
11 tablespoons butter, softened and cubed
1/2 cup + 2 tablespoons sugar
2/3 cup lime juice (about 6 limes)
7 egg yolks
Directions
Combine half of the butter, half of the sugar, lime juice and lime zest in a saucepan. Bring to a boil over medium heat, making sure to occasionally stir gently in order to dissolve the sugar.
Meanwhile, use a whisk to blend the eggs yolks and remaining sugar in a separate bowl.
Temper by gradually adding about one-third of the lime juice mixture, stirring the eggs and sugar constantly with a whisk. Next, remove the whisk from the egg mixture and begin whisking the lime juice mixture while you pour the tempered eggs and sugar into the saucepan. Place back over medium heat and continue cooking, stirring constantly with the whisk, until it comes to a boil.
Remove from the heat and stir in the remaining butter.
Strain the lime curd into a container and cover with plastic wrap placed directly onto the surface of the curd. Cool and store covered in the refrigerator for up to two weeks.