Chicken with crispy golden brown skin can only be described as heavenly. It's easy, too – really, it is. We have been waiting to share this one with you, since we started talking to Nina at Nina Cross Design about a shiny new homepage. We needed to give her a few of our photos in order to really understand how the new site would look. This was one of the photos we sent. So, all the site previews that went back and forth between Nina and us had this recipe on it. We just couldn't hit publish until the new design was up. Fortunately, it's here. Nina did an amazing job, didn't she!? I think we literally watched our homepage for 30 minutes with popcorn last night.
How to make Pan Roasted Chicken
Here's what you need: Boneless chicken breasts WITH skin, olive oil, salt, butter and fresh thyme or other hearty herb. Rosemary or sage would be lovely!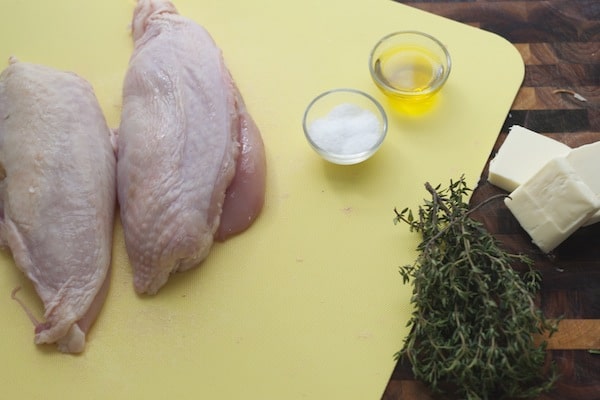 Turn the oven on, we will want it nice and hot in a minute. Then, generously season each side of the chicken with salt.
Find yourself a heavy-bottomed skillet (a cast iron pan works like a charm). Heat the pan over medium-high heat for a minute or two. Add the oil then place each chicken breast skin-side down in the pan. Now, wait. Don't touch the chicken, move it — don't even speak to it. The skin needs time, time to become golden brown and crispy. Don't touch, move or talk to the chicken for about 6 minutes. Then, give it a nudge, if it moves freely, you can flip. See how beautiful the skin becomes? I could kiss it!
Now, add the butter and fresh thyme.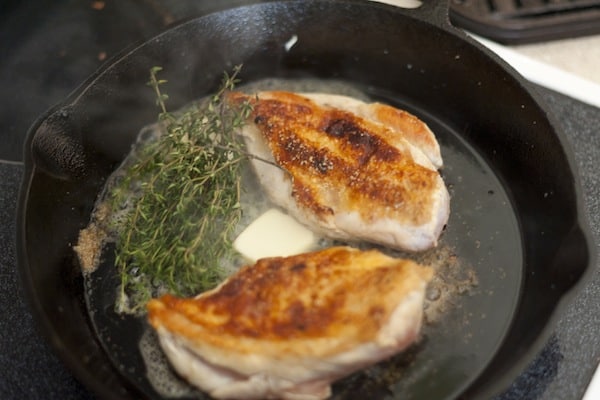 Once the butter melts, spoon the butter over the chicken a few times. Oh, baby!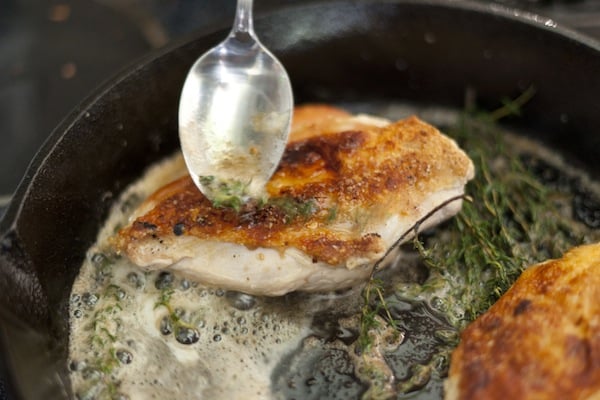 Now, place the pan with chicken into the hot oven and cook until the middle of the chicken reaches 165 degrees F. Take it out of the oven, transfer to a plate and allow to rest for a few minutes. I know this is the hard part, but resting the chicken means all the juices inside will evenly distribute throughout the chicken, giving you a moist chicken breast.
That's it. Easy, right?
Recipe and photos developed for Pillsbury
A few more ideas from around the web:
Bo Ne Vietnamese Steak and Eggs from the Ravenous Couple
Garlic Lemon Chicken Breasts from Somthin' Yummy
Chicken Diablo from Bev Cooks

Pan Roasted Chicken Recipe with Thyme
An easy chicken recipe perfect for any weeknight. This pan roasted chicken with thyme has crispy golden brown skin that can only be described as heavenly.
Created By:
Joanne and Adam Gallagher
You Will Need
2 boneless skin-on chicken breasts
1 teaspoon salt
1 tablespoon vegetable or canola oil
2 to 3 tablespoons unsalted butter
6 fresh thyme sprigs
Directions
Heat oven to 400°F. Heat large heavy-bottomed ovenproof skillet (such as cast iron) over medium heat 2 minutes. Meanwhile, season both sides of the chicken with salt.
Add oil to heated skillet. Add chicken, skin-side-down; cook 6 to 8 minutes or until skin is golden brown. Turn chicken; add butter and thyme. When butter is melted, spoon over chicken.
Place skillet in oven; bake 12 to 15 minutes or until juice of chicken is clear when center of thickest part is cut (165°F).
Spoon butter over chicken. Remove from skillet to serving platter. Cover chicken with foil; let stand 5 minutes before serving.