How to make vegan mayo! This thick and creamy vegan mayonnaise is an excellent egg-free substitute for regular mayo. We use it for sandwiches, as a base for dressings, and in salads.
Watch The Video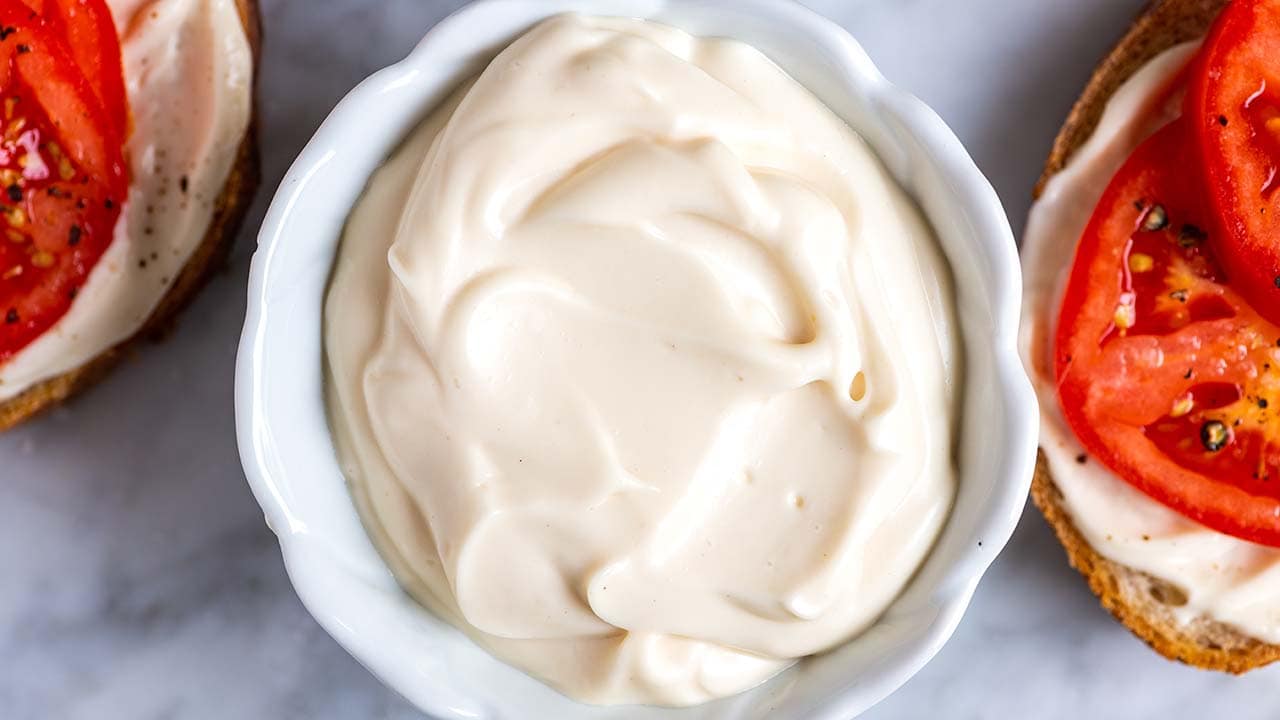 What is Vegan Mayo?
Vegan mayonnaise is made of two main ingredients: soy milk (or aquafaba) and oil. Therefore, vegan mayo is different from regular mayonnaise, which combines egg and oil. Even though the ingredients are different, it is an excellent substitute for regular mayonnaise. We often use it for sandwiches, as a base for dressings, and in salads.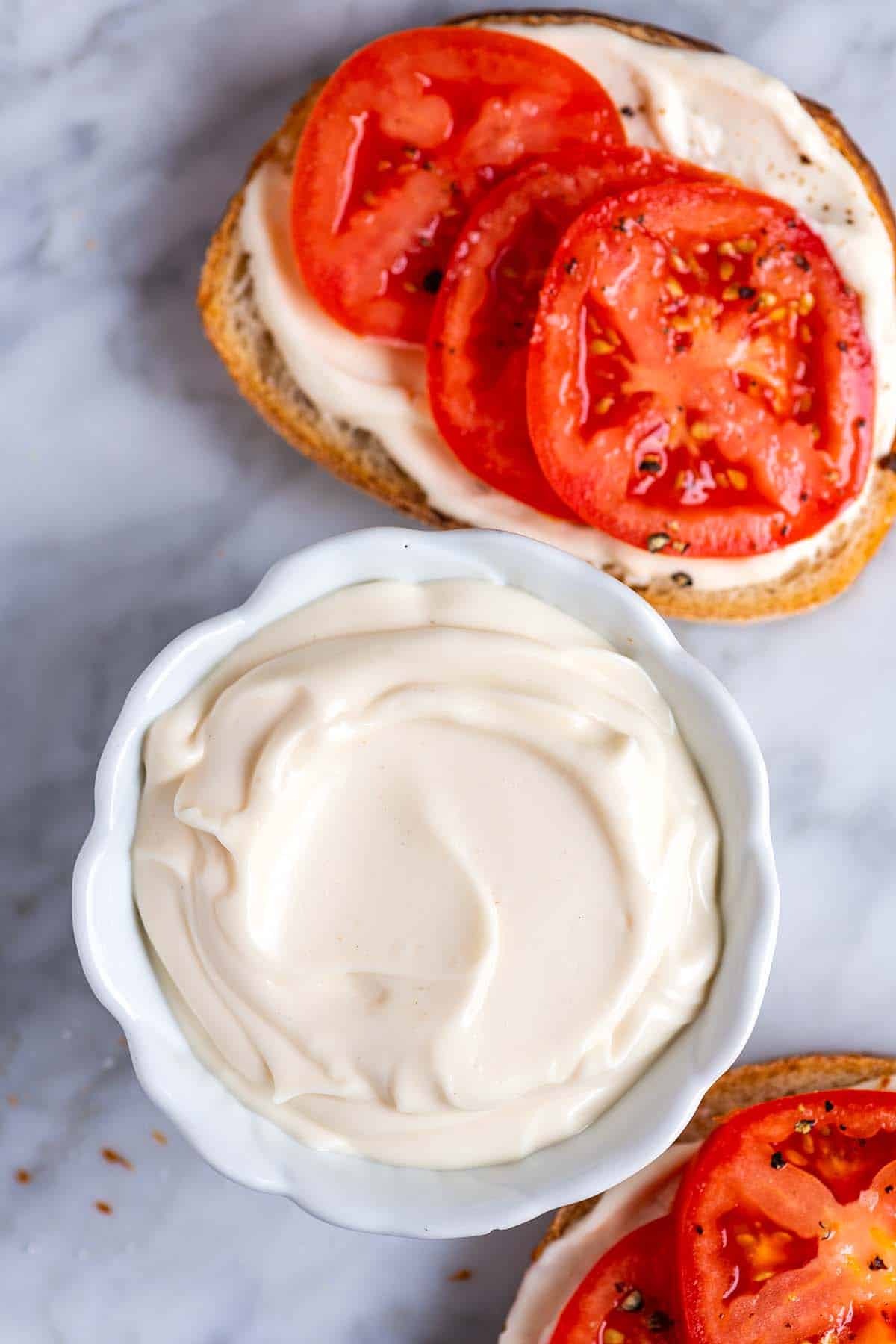 When making the more traditional egg-based recipe, oil is slowly whipped or blended into the egg. By doing this slowly, the mixture emulsifies. That's why mayonnaise is thick, white, and creamy.
When making vegan mayo, the method is no different. In the egg-based recipe, the egg is what aids in the emulsification process. Whereas, in the vegan recipe, soy milk or aquafaba do the heavy lifting.
More: Try our non-dairy Vegan Coconut Whipped Cream!
Should I Use Soy Milk or Aquafaba?
Our recipe works just as well when made with soy milk or aquafaba. When using soy milk, choose an unsweetened version. If you don't know about aquafaba — the liquid in a can of beans — we recommend reading this article we shared explaining its uses.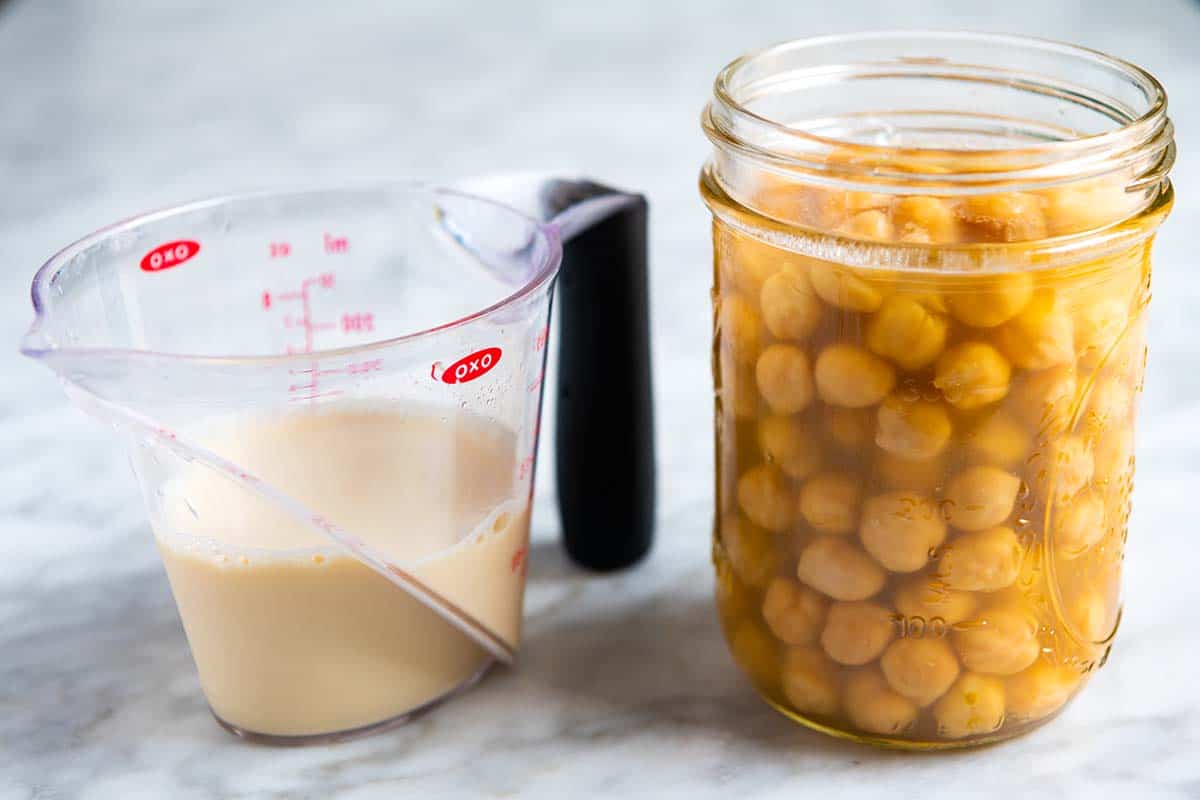 If I had to choose one, I lean towards soy milk. If you cannot eat soy or have a can of chickpeas lying around, this recipe made with aquafaba is still wonderful.
Does Vegan Mayo Taste Good?
Yes, vegan mayonnaise tastes good. We mentioned two main ingredients — soy milk or aquafaba and oil — but in our recipe below, we add a few more flavorful ingredients to make sure that it tastes great.
To make the vegan version taste as good as regular mayo, we add these ingredients:
Vinegar — Red wine vinegar, white wine vinegar, or apple cider vinegar adds tanginess. Vinegar livens up all the other ingredients and makes it taste delicious.
Salt — As with most recipes, salt is essential in making the mayo taste good. So, if your mayonnaise doesn't pop in flavor, add a pinch more salt. I bet it will fix it!
Dijon mustard — Mustard is another emulsifier and adds extra tanginess. When making our egg-based recipe, we add mustard and love it, so it is perfect for adding here.
Lemon juice — We list fresh lemon juice as an optional ingredient, but I always add some when I have lemons in the house.
Sweetener — I typically do not add any sweetener, but it does an excellent job balancing out the vinegar. You can add maple syrup, brown rice syrup, and even cane sugar. Honey is also an option if you eat it.
How to Make Vegan Mayonnaise
The full recipe for vegan mayonnaise is below, but let me explain the methods we recommend when making it.
Use a food processor — A food processor is my device of choice when making mayonnaise. Whenever I use it, the recipe always works.
Use an immersion blender — Immersion blenders are a favorite tool for making mayonnaise and they work for this vegan version. Use a tall jar, and remember to add some air towards the end of making the mayo. I do this by slowly moving the blender up and down. As you do this, you will notice that the mayonnaise gets thicker.
Regular blenders are not as fool-proof — I don't want to say that you won't be able to make this recipe using your blender, but we have not had as much success ourselves. If you have a powerful blender, then you might be more successful.
By hand takes time and is tiring — You can hand whip, but I have to be honest, I've not done this myself. I've made regular mayo by hand many times but still prefer to use a food processor. Making mayo by hand takes much longer and a lot of elbow grease.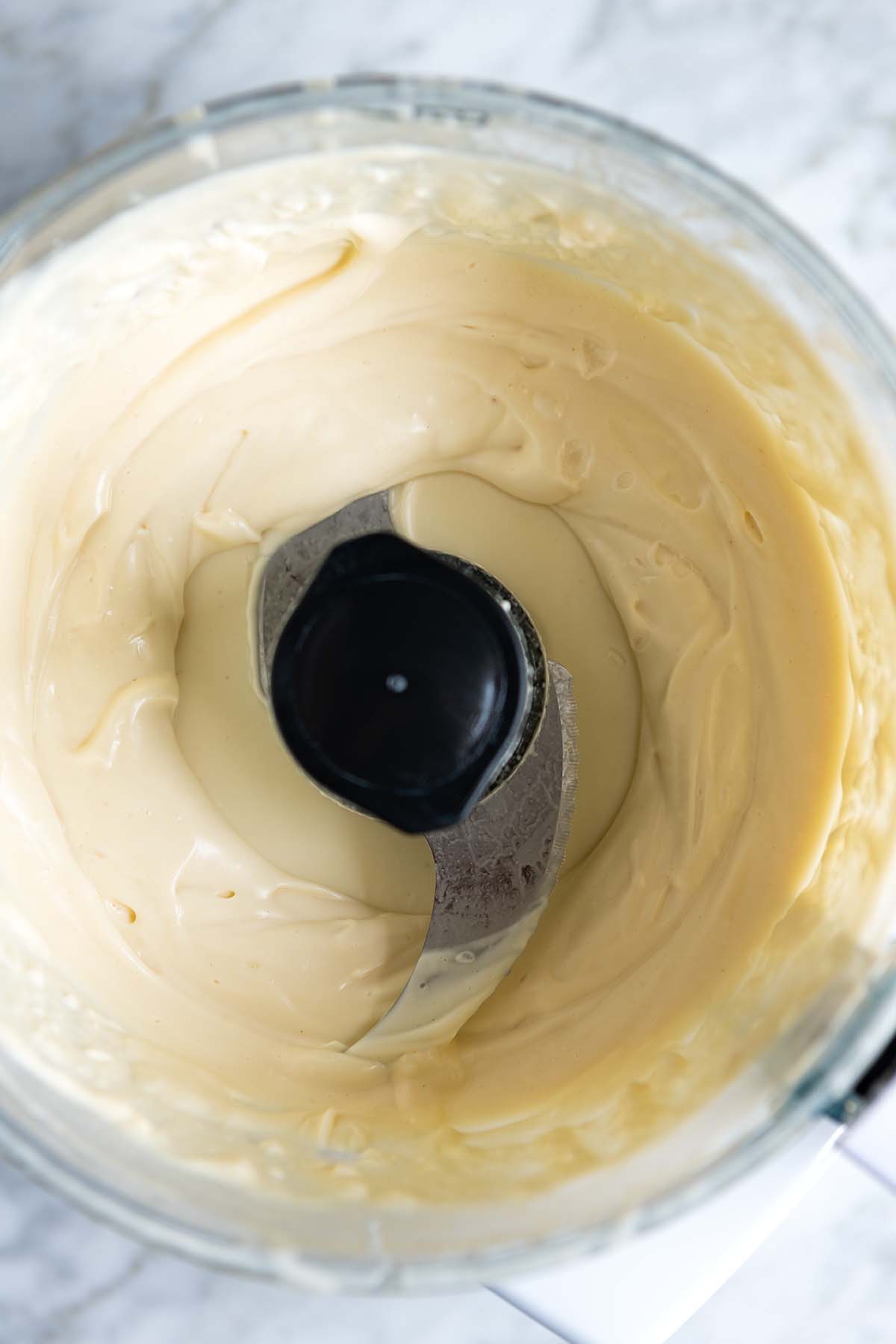 Tips for Making
Mayonnaise is an emulsification, which means that the oil is suspended in the soy milk (or aquafaba), making a thick and creamy mixture.
I have two tricks for making mayo:
Add the oil slowly. By slowly, I'm talking drop by drop. I know it takes time, but trust me, adding the oil slowly helps the emulsification process. Add it too quickly and your mayonnaise may never thicken, leaving you with a mess.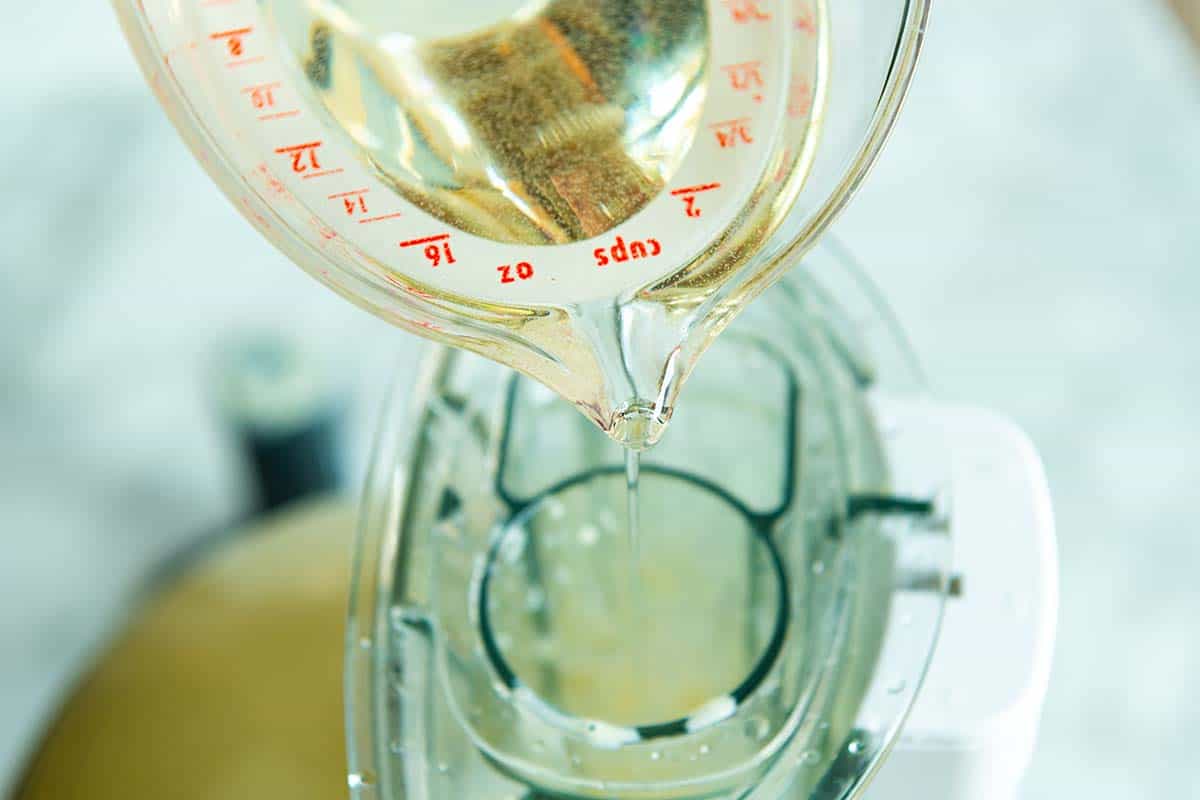 Use room temperature ingredients. Making sure that all the ingredients are at the same temperature will help them emulsify.
Delicious Ways To Use Homemade Mayonnaise
Homemade vegan mayonnaise isn't just for sandwiches! Use it to make one of these delicious salads: We love using it to make our Potato Salad, our Creamy Coleslaw or our Broccoli Salad.
It's absolutely perfect for making Tuna Salad or Chicken Salad. If you don't eat seafood or meat, simply substitute the tuna or chicken for mashed chickpeas!
You can also turn mayo into your own creamy salad dressings! Try this simple Tartar Sauce.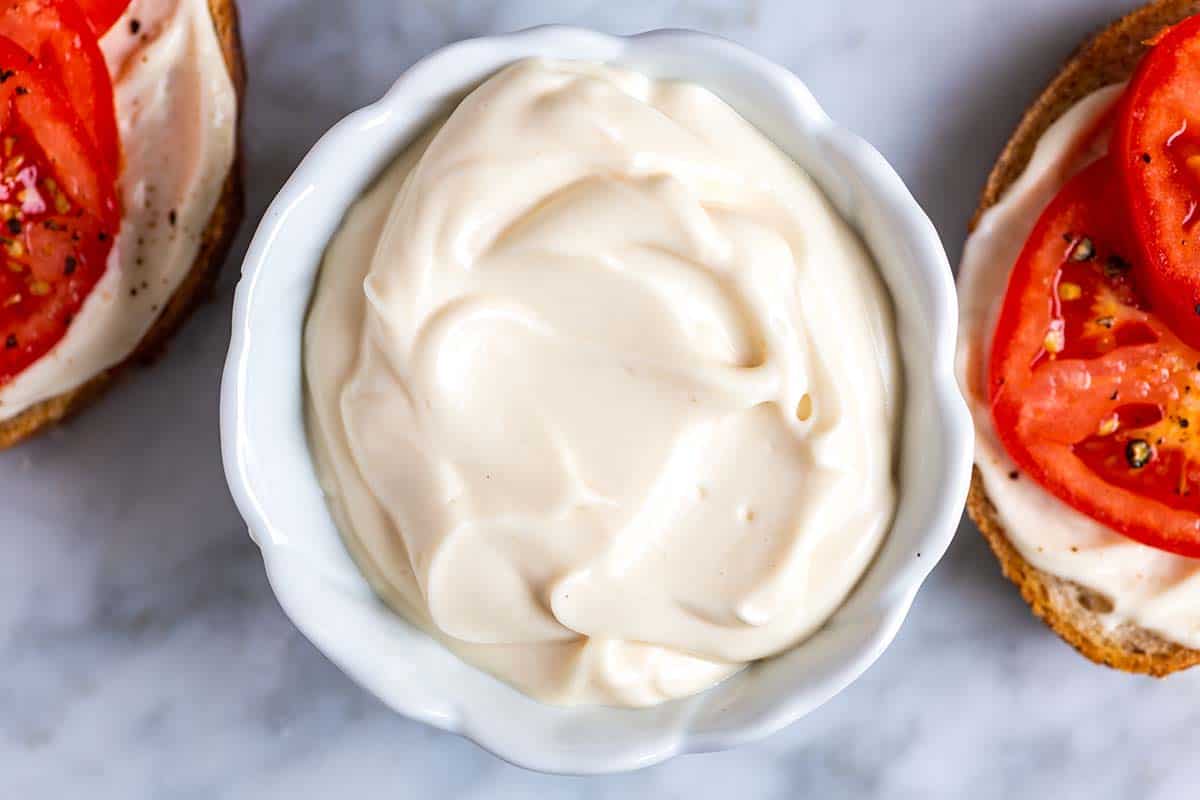 Easy Homemade Vegan Mayonnaise
Vegan mayonnaise is an excellent egg-free substitute for regular mayonnaise. We use it for sandwiches, as a base for dressings, and in salads. Methods for making vegan mayonnaise in a food processor and using an immersion blender are below. We have not had as much success with a regular blender.
1 ½ cups or 24 tablespoons
Watch Us Make the Recipe
You Will Need
1/2 cup (120 ml) room temperature soy milk, see tips below for substituting aquafaba
1 tablespoon red or white wine vinegar, can substitute apple cider vinegar
1/4 to 1/2 teaspoon fine sea salt
1 ½ teaspoons Dijon mustard or substitute 1/2 teaspoon dry mustard
1 teaspoon fresh lemon juice, optional
1 cup neutral oil like sunflower, grapeseed or vegetable oil
Pinch cane sugar or maple syrup, optional
Directions
Making Mayonnaise in a Food Processor

1Add the soy milk (or aquafaba) to the bowl of a food processor. Process for about one minute or until the liquid begins to thicken. Note that if using aquafaba, there might not be enough liquid in the bowl for the blades to process. If this happens to you, move on to the next step.

2Add the vinegar, salt, mustard, and lemon juice to the bowl, and then process for another 30 seconds so that everything is well blended.

3Scrape the sides and bottom of the bowl. Then, with the food processor running, slowly add the oil in tiny drops until about a quarter has been added (this is critical for proper emulsification).

4You can be a little less strict when you notice that the mixture is beginning to thicken and emulsify. Continue to add the oil slowly, but increase to a thin stream instead of drops of oil.

5After adding all of the oil, scrape the bowl, and then process for 10 seconds.

6Taste the mayo, and then adjust with more salt or a sweetener if you feel it needs it.

7As the mayonnaise sits in the fridge, it thickens even more. If you think the mayonnaise is too thin, you can blend a little more oil into it. Do this slowly.
Making Mayonnaise with an Immersion Blender

1Add the soy milk (or aquafaba), vinegar, salt, and mustard to a tall glass jar or the tall cup that comes with an immersion blender.

2Blend on high with an immersion blender until the mixture begins to thicken.

3With the immersion blender on high speed, slowly add the oil. Adding the oil will take one to two minutes. Adding the oil slowly helps the mayonnaise to emulsify and thicken.

4As you finish adding the oil, move the immersion blender up and down to introduce some air. If the mayonnaise is too thin, add a little more oil to help it thicken some more. (As the mayonnaise sits in the fridge, it thickens even more.)
Storing

1Store vegan mayonnaise in an air-tight container in the refrigerator for 2 to 3 weeks. As it sits, some liquid might pool at the top. However, I've found that it mixes back in with a spoon with no issues.
Adam and Joanne's Tips
Substitute soy milk with aquafaba: Instead of 1/2 cup soy milk, use four tablespoons aquafaba (1/4 cup). The aquafaba whips up to a larger volume, which is why we reduce the amount required. The other ingredients listed in the recipe do not need to change. Since we only use four tablespoons of aquafaba, there may not be enough liquid for the processor blades to blend at first; that's okay, though. Once you start adding the other ingredients, you should be okay.
Nutrition facts: The nutrition facts provided below are estimates. We have used the USDA database to calculate approximate values. Calculations are for mayonnaise made with soy milk and no added sweetener.
If you make this recipe, snap a photo and hashtag it #inspiredtaste — We love to see your creations on Instagram and Facebook! Find us: @inspiredtaste
Nutrition Per Serving
Serving Size
1 tablespoon
/
Calories
82
/
Total Fat
9.2g
/
Saturated Fat
1.2g
/
Cholesterol
0mg
/
Sodium
58.4mg
/
Carbohydrate
0.1g
/
Dietary Fiber
0g
/
Total Sugars
0g
/
Protein
0.1g