Roasted Asparagus Crostini with ricotta cheese and pesto is simple, fresh and perfect for Spring!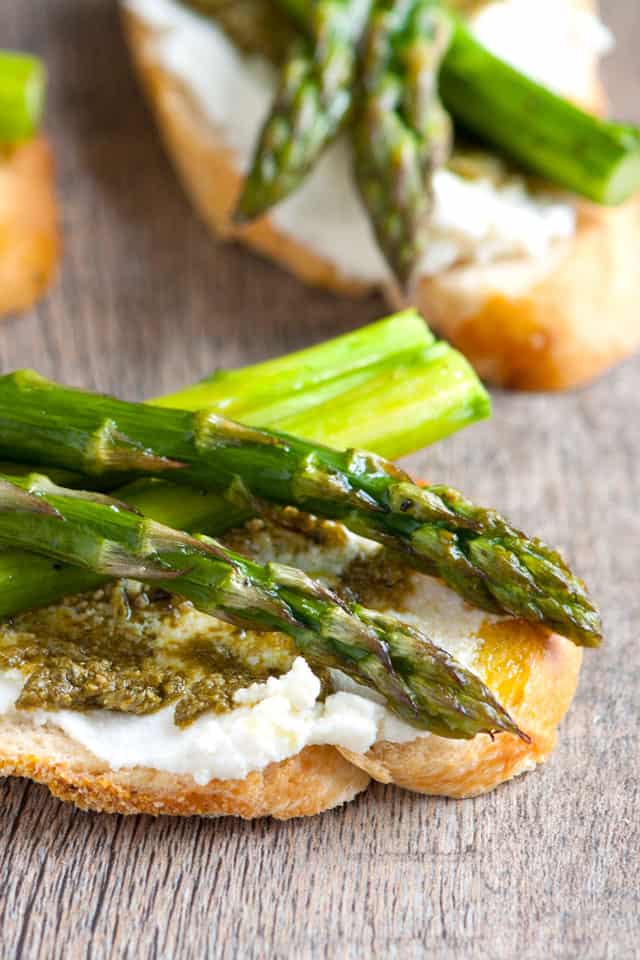 We would put money on the fact that any day, if you were to open our refrigerator, you would absolutely see ricotta cheese. We've used ricotta more times than we can count … it's absolutely perfect when you add it to store bought pasta sauce, by the way.
Since we had some on hand, it wasn't much of a jump for us to put this little appetizer together. It takes just about 20 minutes and not a lot of fuss at all.
How to Roast Asparagus. What You Might Be Missing
Most asparagus we buy at the store have pretty thick, woody stalks. We like our asparagus tender and those thick, woody stalks don't really help us with that.
The answer?
Peel them. Just run a vegetable peeler down each stalk before cooking and you'll be on your way to some seriously tender asparagus.
Roast Asparagus in 15 Minutes
Roasting asparagus is easy. Toss them with olive oil, salt and pepper then bake in a hot oven. We go for 400 degrees.
You'll know they're ready when the tips just begin to brown.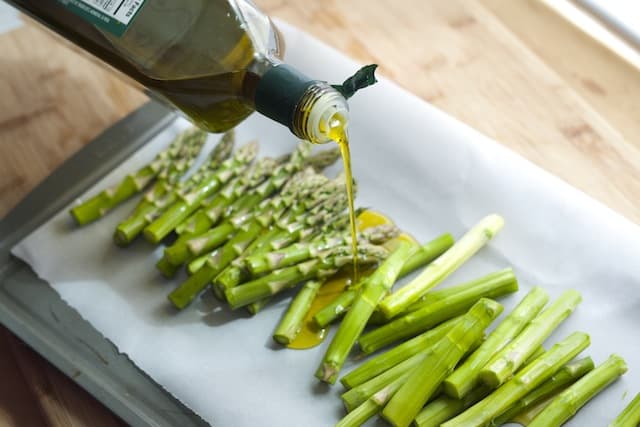 Shortcut. Buy Pesto At the Store
You can get these little toasts ready in minutes. Smear a generous helping of ricotta cheese on lightly toasted bread— and maybe steal a spoonful for yourself. Then, grab a jar of pesto and add a dollop on top of the cheese. That adds serious flavor — garlic, basil and parmesan…yum!
Place a couple asparagus spears on top and you have one fabulous appetizer.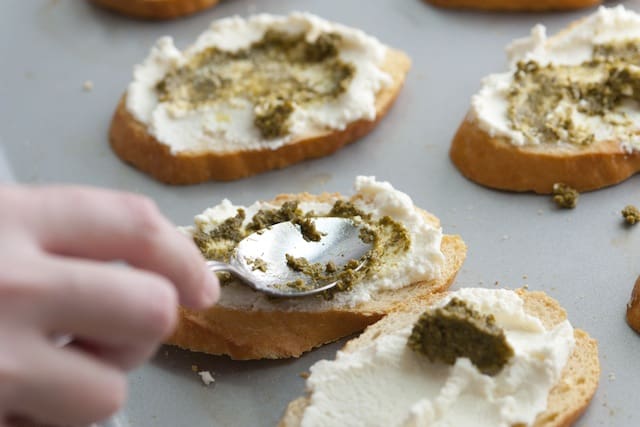 Like what you see? Take a browse through more of our Appetizer Recipes for more inspiration.
Roasted Asparagus and Pesto Crostini
A simple appetizer of lightly toasted bread smeared with ricotta cheese and topped with a little dab of basil pesto and roasted asparagus.

When you buy your asparagus, look for bunches that have thinner stalks, if you can only find thick-stalked asparagus, use a vegetable peeler to peel away the outer layer of asparagus as this can be a bit tough. As for the pesto, we use a store-bought basil pesto, usually found by the canned tomatoes or in the refrigerated section where fresh pastas are sold.
Yield:
Serves 6 as an appetizer
You Will Need
1 bunch asparagus
1 tablespoon olive oil
1/4 teaspoon salt
Freshly ground black pepper
1 loaf French bread, cut on diagonal into 1/2-inch slices
3/4 cup ricotta cheese
4 tablespoons basil pesto
Directions
Heat oven to 400 degrees F. Line a baking sheet with foil or parchment paper.
Cut about 3/4 of an inch from the bottom of each asparagus stalk to remove the tough ends and discard. Then, cut asparagus into 2-inch long pieces. Add to baking sheet and toss with olive oil, salt and a generous sprinkle of freshly ground black pepper. Bake 15-20 minutes until tender.
Just before serving, add bread slices to a clean baking sheet and bake in the oven 2-4 minutes until they begin to toast around the edges. Remove then smear ricotta cheese onto each slice. Spread about 1 teaspoon of pesto over the cheese and top with a few pieces of roasted asparagus.