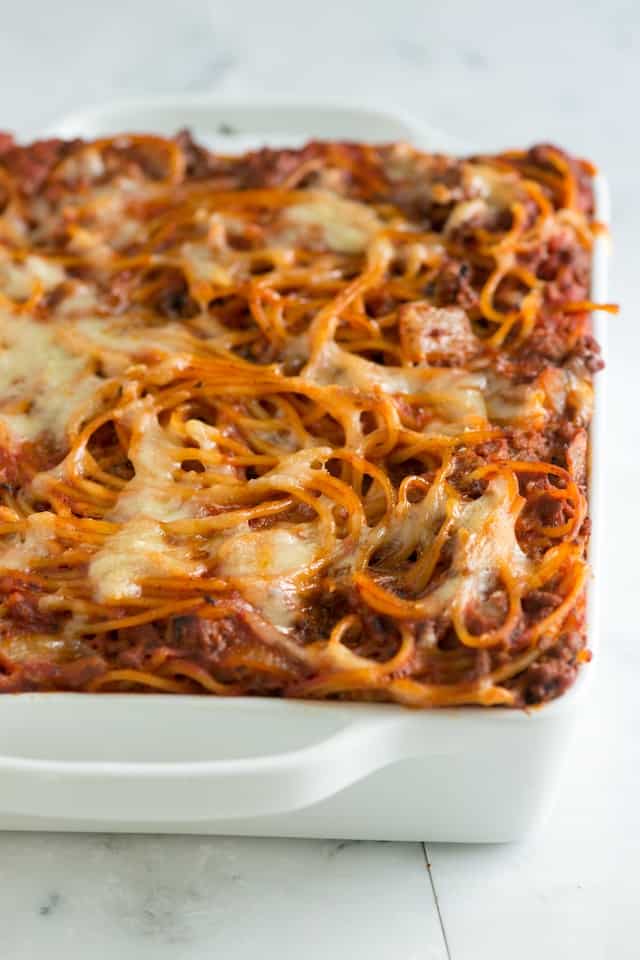 This easy baked spaghetti recipe is pure comfort. It's everything we love about simple spaghetti and meat sauce. Plus, we add a dreamy layer of creamy pesto in the middle, cheese on top and we bake until bubbly. It's easy to make and really easy to serve.
One of Our Favorites. How we Make Our Easy Baked Pasta Recipe.
Our baked pasta recipe comes together really quickly. We love pasta and red sauce, but we love it even more when we add sweet cooked onions and ground beef. So, to start things out, we cook the onions and the beef until the onions are soft and the beef has browned. Then, we add two jars of our favorite store-bought marinara sauce (you could add homemade, too). After everything is warm and bubbling, we toss in cooked spaghetti.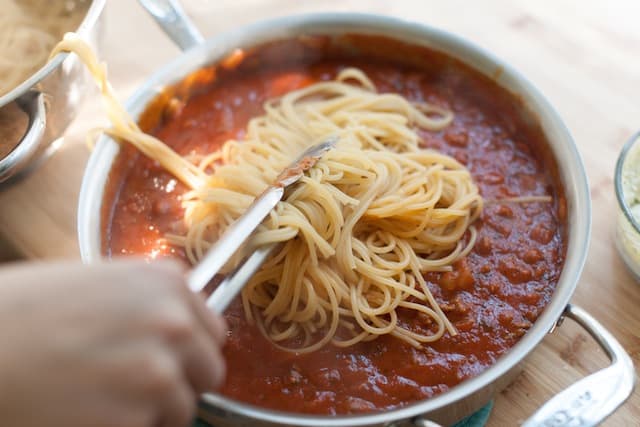 Now, you could stop there, but if you're up for it, try adding a thin layer of sour cream mixed with some store-bought pesto. We just smear it over about half of the pasta then cover with the rest of the pasta. So delicious!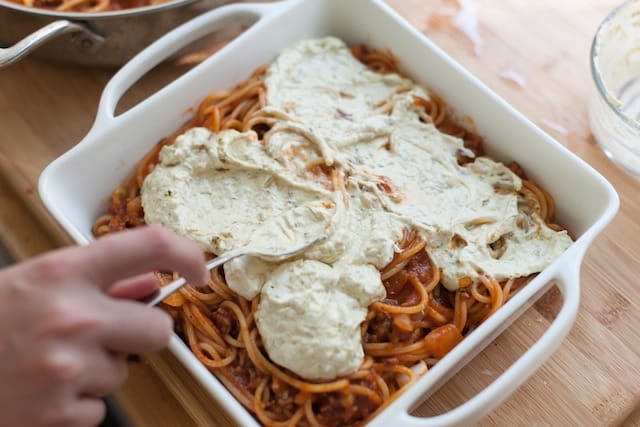 Once the pan is full, we cover the spaghetti with some cheese and bake in the oven for about 30 minutes.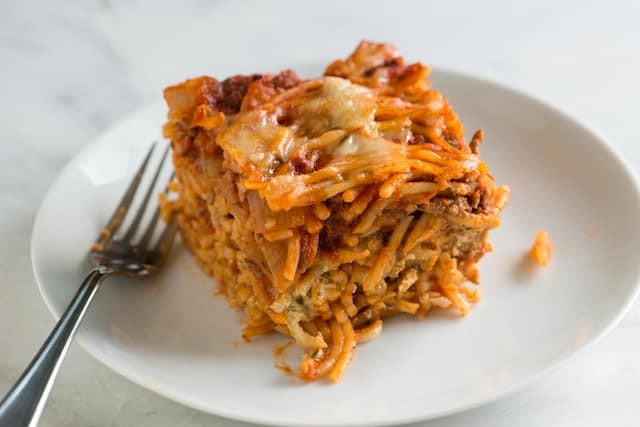 Did you enjoy our easy baked spaghetti recipe? If so, you might also like these:
Easy Baked Spaghetti Recipe with Creamy Pesto
A delicious and easy baked spaghetti recipe with ground beef, marinara sauce and a middle layer of creamy pesto. If you are like us, this will become your new favorite meal! To make this meatless, just remove the beef – the spaghetti will still be delicious.
Created By:
Joanne and Adam Gallagher
You Will Need
1 pound (453 grams) dry spaghetti pasta
1 tablespoon olive oil
1 medium onion, chopped
1 pound (453 grams) lean ground beef
1/2 teaspoon salt
Two 26-ounce jars (1474 grams) marinara sauce
3/4 cup (175 grams) sour cream
1/4 cup (60 grams) basil pesto
1/2 cup (40 grams) shredded mozzarella cheese
Directions
Heat oven to 350 degrees F (177 degrees C). Spray a 3-quart baking dish with non-stick cooking spray or lightly grease with butter. (A 13-inch by 9-inch pan works well for this).
Bring a large pot of salted water to a boil then add spaghetti and cook according to the package directions (this usually takes about 10 minutes). Then, drain pasta.
In a small bowl, stir the basil pesto and sour cream together, and then set aside.
While the pasta cooks, heat the olive oil in a large skillet or frying pan with sides. Then, add onions then cook 3 to 5 minutes, stirring occasionally, until translucent.
Now, add the beef to the onions. Scatter a 1/2 teaspoon of salt over the beef then use a spoon or fork to break the beef apart. Cook, stirring occasionally, until the beef has browned. This takes about 6 minutes.
Drain extra fat from the beef then add tomato sauce and cook, while stirring until heated through.
Remove beef from the heat, add the cooked and drained spaghetti and toss. Transfer about half of the spaghetti to the baking dish. Spread the sour cream and pesto mixture on top then cover with the rest of the spaghetti. Top with mozzarella cheese.
Place the baking dish onto an aluminum-lined baking sheet (just in case any sauce drips over the sides of the baking dish). Then, bake for about 30 minutes or until cheese has melted and the sauce is bubbling.