Baked sweet potatoes stuffed with roasted garlic, avocado and tomato salsa. If you love sweet potatoes, this recipe is for you! Jump to the Baked Sweet Potato recipe or read on to see how we make it.
Sweet potatoes are a regular sight in our kitchen — we've already shared a few of our favorite ways to cook them.
See how we make Baked Sweet Potato Fries that are caramelized and crispy on the outside and tender on the inside. I just love this recipe, the fries are so good!

 

We've also shared Coconut Oil Baked Sweet Potatoes. There's a little maple syrup, cinnamon and toasted pecans. It's an easy, one-pan recipe.
Let's start with a quick "How to Bake a Sweet Potato" tutorial. It's easy, you can do it ahead of time and it's practically hands off.
How to Choose, Prep and Bake Sweet Potatoes
Choosing the Best Sweet Potatoes
You've surely noticed that there can be a few different varieties to choose from when it comes to sweet potatoes. Whether they are pale gold or darker orange you can use them interchangeably. By the way, the darker orange varieties are often labeled as yams, which is wrong! Weird, I know.
So we don't really care about the color, but we do care about how they feel. Choose potatoes that are firm and have smooth skin.
If you're baking all the sweet potatoes at the same time, it's also a good idea to choose potatoes that are similar in size. This way, they'll all bake within the same amount of time.
Baking Sweet Potatoes
Just before baking, you'll want to scrub them — a vegetable scrubbing brush is helpful, although I'll usually use my hands.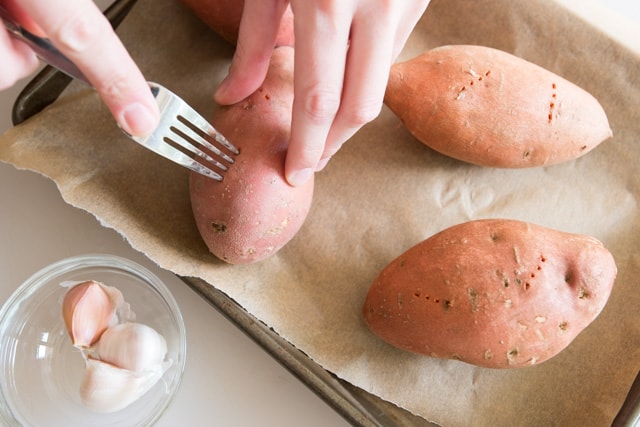 Next, grab a fork or pairing knife and pierce the potatoes in several places. Place them onto a baking sheet lined with parchment paper or foil and then bake in a 400 degree F oven until the potatoes are very soft and are beginning to ooze. Depending on the size, you are looking at 45 minutes to an hour.
Making a Baked Sweet Potato in Advance
Sweet Potatoes can be baked in advance! Bake the potatoes just as I explained above then let them cool completely (the potatoes will soften and ooze even more as they cool).
Cover the potatoes and refrigerate up to 5 days. You can enjoy them at room temperature or simply reheat for 20 to 30 minutes in a 350 degree F oven.
Making the Roasted Garlic, Tomato, and Avocado Salsa
Now we've got that out of the way, let's talk about this insanely delicious salsa.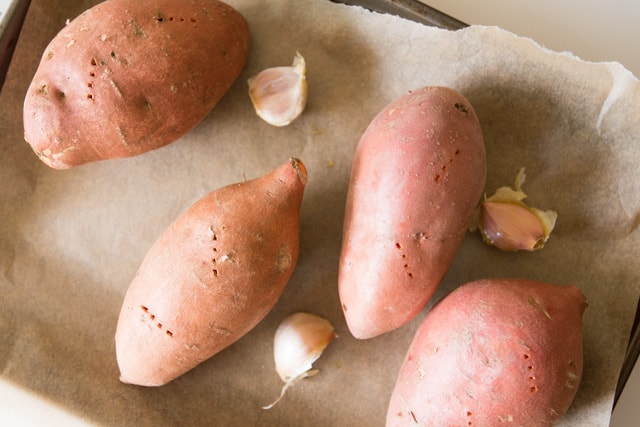 Remember how we bake the sweet potatoes on a baking sheet? Well, we also throw a few unpeeled garlic cloves on there too. This way, as the potatoes bake, so does the garlic. It gets sticky, soft and a little chewy.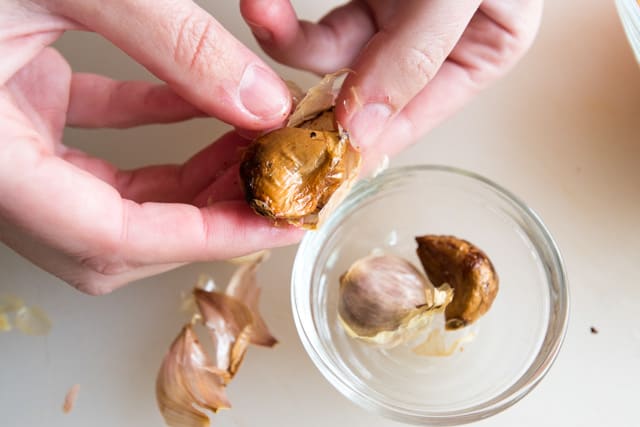 We chop up the garlic then add it to a bowl with tomatoes, avocado, jalapeño, cilantro, and lime juice. Everything is tossed with salt and pepper and then is ready to top our perfectly baked sweet potatoes!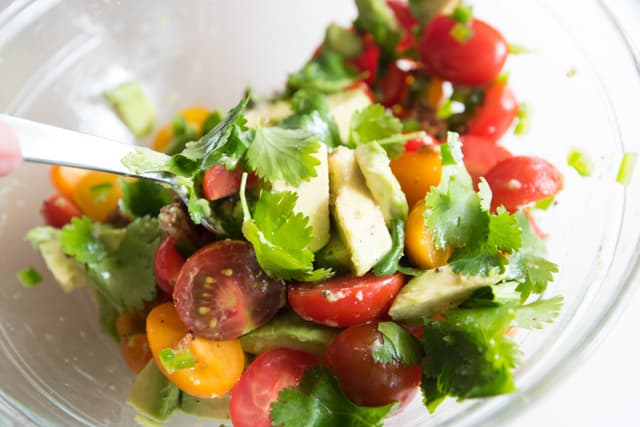 A+J's Tip: Add a little healthy protein to the salsa with beans — black beans or chickpeas would be great.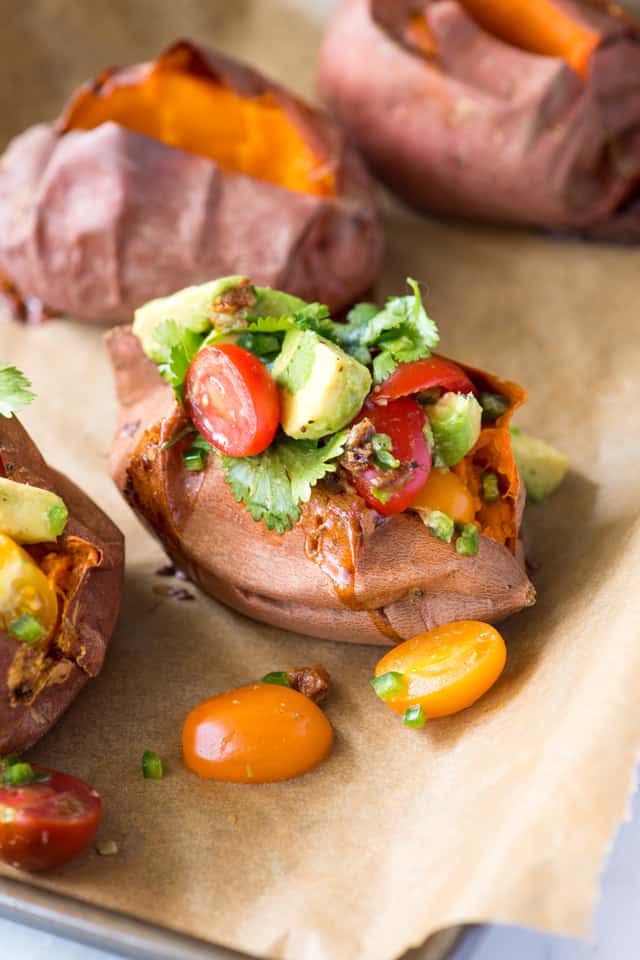 The potatoes are soft and sweet and the salsa is fresh, bright, and full of flavor. Enjoy!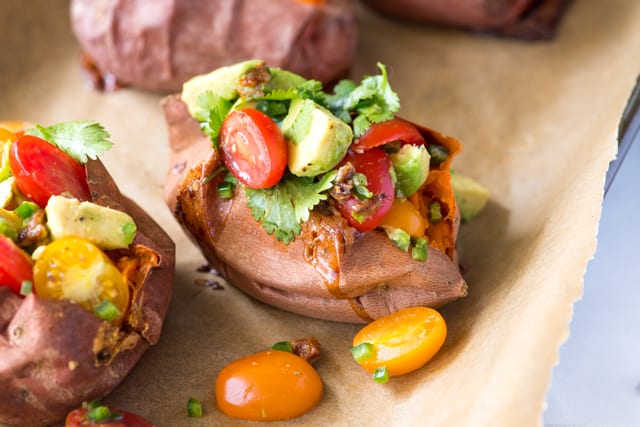 Baked Sweet Potato with Tomato-Avocado Salsa
Baked sweet potatoes stuffed with roasted garlic, avocado and tomato salsa. When choosing sweet potatoes, look for potatoes that are firm, have smooth skin, and are similar in size.
You Will Need
For the Baked Sweet Potatoes
4 medium sweet potatoes
3 unpeeled garlic cloves
1 teaspoon olive oil
For the Tomato-Avocado Salsa
2 cups cherry tomatoes, halved
1 jalapeño
1 medium avocado, diced
1/4 cup fresh cilantro leaves
1 lime wedge
Salt and freshly ground black pepper
Directions
Bake Sweet Potatoes and Garlic: Heat oven to 400 degrees F. Scrub sweet potatoes and pierce in several places with a fork. Link a baking sheet with parchment paper or aluminum foil and place the potatoes on top.
Toss unpeeled garlic cloves with olive oil and place on the baking sheet with potatoes.
Bake for 45 minutes to an hour, depending on the size of the potatoes, until very soft and beginning to ooze.
Prepare Tomato Avocado Salsa: Remove roasted garlic cloves then peel. The flesh inside should be sticky, chewy and soft. Roughly chop them into small pieces and add to a medium bowl.
Cut the jalapeño pepper in halve lengthwise and use a spoon to scrape out the white membrane and seeds.
A+J Note: Since the membrane and seeds can be very spicy, we prefer removing them. You can leave some or all of the membrane and seeds depending on how spicy you like things.
Finely chop the jalapeño and add to bowl with garlic. Stir in the tomatoes, avocado, and cilantro. Season to taste with salt, pepper, and a squeeze of fresh lime juice.
Serve Sweet Potatoes: Cut a slit down the middle of each sweet potato and fill with tomato-avocado salsa.
Notes and Tips
Make-Ahead Tip: Sweet Potatoes can be baked in advance! Bake the sweet potatoes and garlic until very soft and beginning to ooze then allow to cool completely (the potatoes will soften and ooze even more as they cool). Cover and refrigerate up to 5 days. Reheat for 20 to 30 minutes in a 350 degree F oven.