Isn't it amazing how time just flies? One moment it seems you are slowly moving along, enjoying a new year and then the next moment you realize we aren't just beginning a new year, but are well on our way into it. Last Friday, I must have been the most gullible individual on the web after falling for all those April Fool's jokes, not just because I am admittedly quite the gullible gal, but also because the concept that it was already April was beyond me! Nevertheless, in the last three months, Adam and I have been up to some interesting stuff, stuff that we want to tell you about, but can't, not yet – soon. So, to keep things moving, we thought we could tempt you with this Lemon Angel Food Cake. It is light, delicate and oh so perfect especially when topped with a few berries and a dollop of whipped cream. Happy April!
-originally posted on what feels like yesterday, but was in fact on June 28, 2010-
On Thursday, we told you about Joanne's birthday and highly anticipated birthday present.  Well, fortunately, the Ice colored KitchenAid mixer was delivered in time for her to experiment a bit.  After ravaging through the box, polystyrene and cardboard flying everywhere, we were able to set it up on our kitchen work bench, plug it in and watch the attachments go round and round – Joanne's mother compared this to when her mother, many years ago,  purchased her very first washing machine, after it was installed, she pulled up a chair and sat there watching the clothes go round and round in amazement.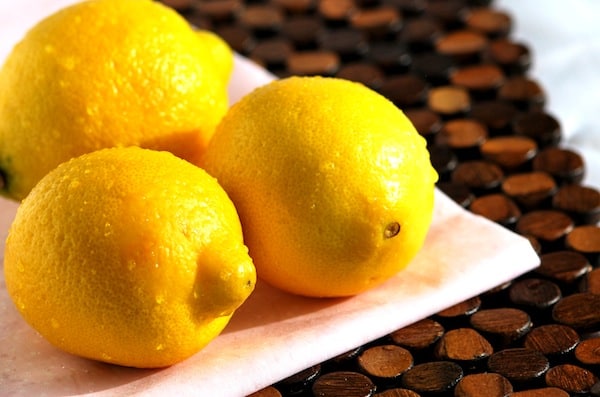 We made a few things over the weekend, but our favorite has to be this Lemon Angel Food cake, so light and yummy (yes, I said yummy, but in this case, we feel it is warranted).  The recipe is from none other than the Barefoot Contessa, a favorite of Joanne's and someone who uses her mixer a lot, which in the past made Joanne yearn for one even more.  So, as an ode to Barefoot Contessa and Joanne's new mixer, we just had to make one of her recipes, one that turned out to be absolutely perfect, no adjusting required!
Recipe from The Barefoot Contessa
Angel food cake is easy to make and a healthy alternative to a regular cake. Note: We did not have superfine sugar in our kitchen, so we took advice from Alton Brown and used out food processor to create superfine sugar from regular granulated sugar; just spin the sugar in the food processor for about 2 minutes.
You Will Need
2 cups sifted superfine sugar, divided
1 1/3 cups sifted cake flour (not self-rising)
1 1/2 cups egg whites, at room temperature (10-12 eggs)
3/4 teaspoon kosher salt
1 1/2 teaspoons cream of tartar
3/4 teaspoon pure vanilla extract
1 1/2 teaspoons grated lemon zest (2 lemons)
Directions
Preheat the oven to 350 degrees F.
Combine 1/2 cup of the superfine sugar and all of the cake flour, then sift together a few times, set aside.
Place the egg whites, salt and cream of tarter in the bowl of a electric stand mixer fitted with the whisk attachment, beat on high speed for about 1 minute or until the eggs make medium-firm peaks.
Turn the mixer down to medium speed then add the remaining 1 1/2 cups of sugar by slowly sprinkling it over the beaten egg whites. Continue to whisk until the egg whites are thick and shiny.
Add the vanilla and lemon zest then continue to whisk an additional minute until the mixture is very thick.
Sift 1/4 of the flour mixture over the egg whites and carefully use a spatula to fold it into the batter. Continue adding the flour in fourths by folding until the flour mixture is all incorporated.
Pour the batter into an ungreased 10-inch tube pan, smooth the top with a spatula and bake for 35 to 40 minutes, until it springs back to the touch.
Remove the cake from the oven, turn upside down onto a cooling rack and allow to cool completely. Once cooled, remove the cake from the pan and sprinkle with a little powdered