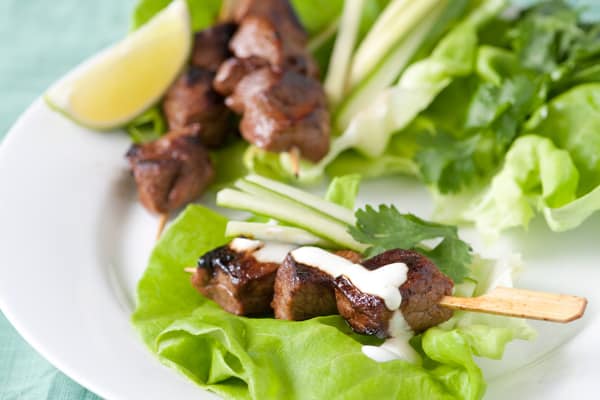 If we were stuck on an island and had to survive on just a few things, Sriracha would be on our list of necessities. At the moment, we have not one, but two bottles in our home and use it in or on everything; soups, marinades, salad dressings, on eggs, mixed into mayo … everything. It isn't just a hot sauce, which will often offer up a top note of spice, Sriracha has a balance of spicy and sweet with hints of garlicy goodness.
The marinade could be adapted for chicken, pork or vegetables. We made it equal parts of honey and Sriracha, making the marinade a bit sticky and one that lends itself to caramelization. You could probably stop there, but we chose to add in additional seasoning from soy sauce and salt as well as some smokiness from cumin and cinnamon. To serve, we used our skewers as the middle of a lettuce wrap and topped them with some crunchy cucumber, cilantro and sour cream that was thinned out with a bit of lime juice, but these would work great served by themselves as an appetizer.
Here are some other recipes that spark our love of Sriracha, we especially have had White On Rice Couple's Chili Garlic Hot Sauce – Cult Sriracha Style on our to-do list for a long time.
25 Ways to Use Sriracha by Bon Appétit
Spicy Cilantro Peanut Slaw by Kalyn's Kitchen
Apricot Glazed Sriracha Ginger Chicken by The Sassy Radish
Tofu and Green Bean Stir-Fry with Spicy Peanut Sauce by The Perfect Pantry
We thought it would be fun to enter the Get Grillin' with Family Fresh Cooking and Cookin' Canuck, sponsored by Ile de France Cheese, Rösle, Emile Henry, Rouxbe and ManPans. This week's theme is appetizers – Go and check out the awesome entries by checking out Family Fresh Cooking or Cookin' Canuck.

Honey Sriracha Beef Skewers
Beef skewers flavored with hot chili sauce, soy and honey.
Created By:
Adam and Joanne Gallagher
You Will Need
1 pound top sirloin beef, cut into 1-inch cubes
3 tablespoons honey
3 tablespoons Sriracha hot sauce
2 tablespoons vegetable or canola oil
1 tablespoon soy sauce
1 teaspoon ground cumin
1/4 teaspoon ground cinnamon
1/2 teaspoon salt
8 skewers
1 whole Boston lettuce (optional)
1 whole cucumber, cut into 1/8-inch slices (optional)
1/2 cup sour cream (optional)
1 whole lime (optional)
Directions
Combine all ingredients and marinate the beef in the refrigerator for at least 30 minutes.
In the meantime, if wooden, soak the skewers in water for at least 30 minutes.
Evenly portion the beef cubes onto each skewer and cook as desired. We recommend using a cast iron pan over medium heat; allow the skewers to cook for about 2 minutes on each side until a medium doneness has been reached. The skewers can also be cooked on an indoor or outdoor grill.
Serve the skewers as is or with lettuce, sliced cucumbers, cilantro and sour cream mixed with the juice of one lime.