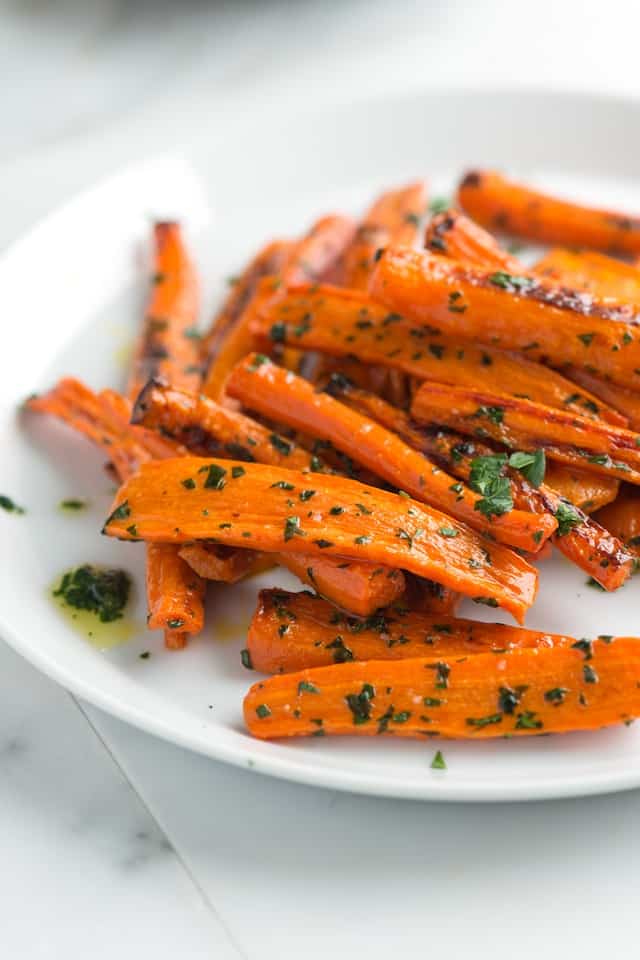 Roasted carrots are sweet, tender and completely delicious. Here, we toss them with a garlicky, parsley-laced butter. These are perfect as a side or tossed with even more roasted vegetables and turned into a main meal.
You May Also Like: Try our Pomegranate Glazed Carrots – The carrots are cooked slowly in pomegranate juice until tender and glazed.
Roasted Carrots Recipe Ritual
Carrots are a staple for us. We make some version of this every week.
Whether you toss your carrots with parsley butter, olive oil or have them plain, you'll want to know the deal when it comes to roasting them. It's a great trick to keep up your sleeve for the next time you're searching for a dead simple side.
The method is very simple and can be used to roast most hearty vegetables. Parsnips, onions, sweet potatoes and squash being our current favorites.
For roasted carrots, heat your oven to a high temperature – we like 425 degrees F. Toss the vegetables with a little olive oil, melted butter or other fat (coconut oil would be nice). Season them with salt, pepper and any other seasoning you love then roast for 25 to 30 minutes until tender and the edges begin to brown.
Options are endless, here. We absolutely love these roasted carrots from Mark Bittman — it's very simple and adds cumin to the carrots while they roast. Here's a roasted carrots recipe with dill from Bon Appetit or try these rosemary roasted carrots from Oh My Veggies.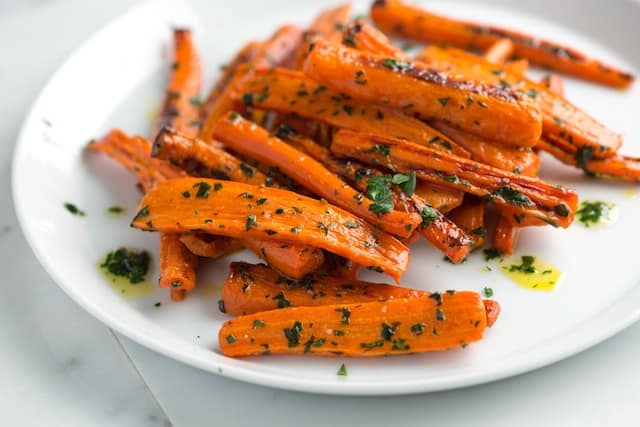 Roasted Carrots Recipe with Parsley Butter
The recipe below is more of a template than a strict recipe. Carrots are perfectly delicious roasted, but so are parsnips, squash, potatoes or other hardy vegetable you find in season. Feel free to switch them out for something else. Here, we toss tender, sweet roasted carrots with butter that's been infused with garlic and parsley. Instead of the parsley, consider adding basil, crushed red pepper flakes, dill, cumin or other favorite flavors.
You Will Need
1 1/2 pounds (675 grams) carrots, peeled with ends trimmed (8 to 9 carrots)
1 tablespoon olive oil
1/4 teaspoon kosher salt
1 tablespoon butter
1 garlic clove
1/3 cup (10 grams) packed parsley leaves, finely minced
Directions
Roast Carrots: Heat oven to 425 degrees F and line a baking sheet with aluminum foil. Cut carrots into 2 to 3-inch sticks. (Depending on how wide the thicker ends are, you may need to slice each stick in half, lengthwise). Toss carrots onto the baking sheet with the olive oil and salt. Make sure the carrots are coated then spread out into one layer. Roast carrots, stirring twice, until they are tender with edges that are lightly browned, 25 to 30 minutes.
Make Garlic Parsley Butter: While the carrots roast, melt butter in a small pan over low heat. Use the back of a large knife to gently crush the garlic clove. Remove the skin then add clove to the butter along with the parsley. Wait until the butter bubbles gently then cook for 1 minute. Slide pan away from the heat and set aside for 10 to 15 minutes. Remove and discard the garlic.
Coat Carrots: Slide the roasted carrots into a bowl with the garlic parsley butter. Toss then season to taste with additional salt.