These are the best ribs! Baking low and slow is our secret to fall off the bone oven-baked ribs. Some people think that ribs should be left to the "pit masters" — it's just not true. Baking ribs in the oven is seriously easy. All you need is time — 95% of the recipe time is sitting back and relaxing while the ribs bake. Let's do this!
Watch the Video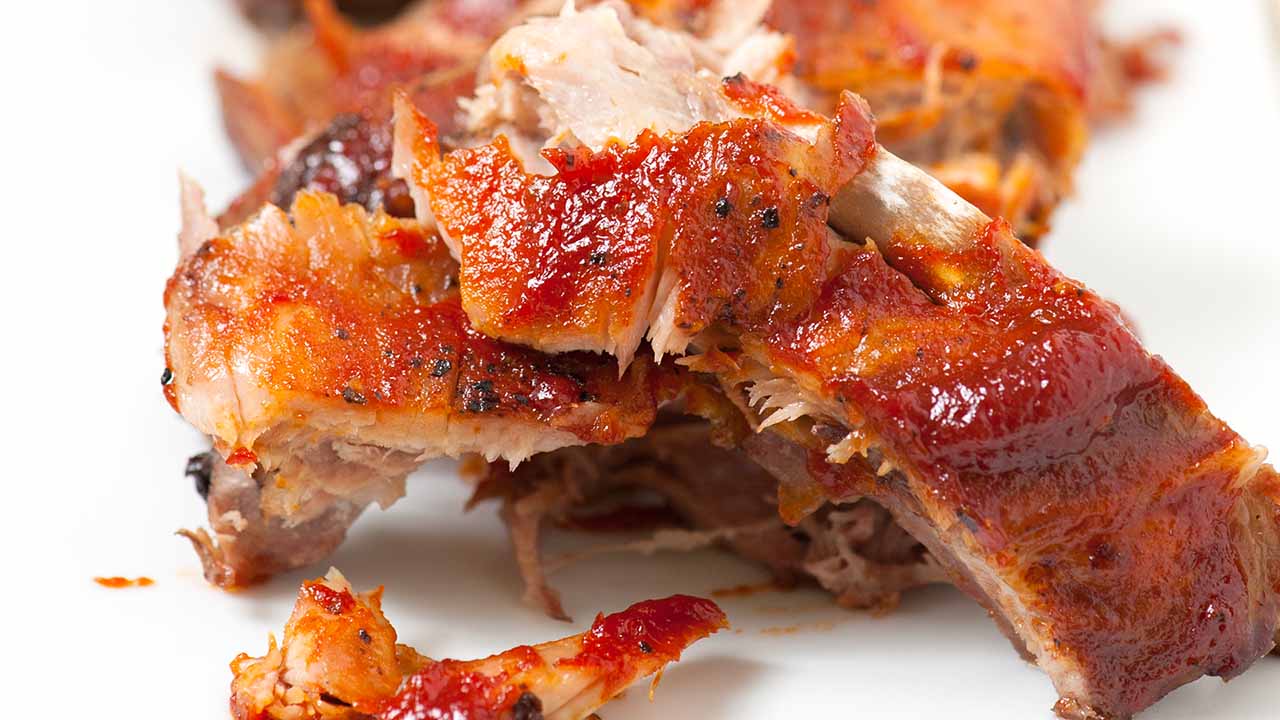 Related: Try these irresistibly good sticky ribs made with a homemade hoisin glaze
Our #1 Secret for Tender Ribs
The best, most fool-proof way to make sure that your ribs are fall off the bone tender is to bake them, covered, at a low temperature in your oven. We bake our ribs in a 275° F oven for two to three hours. It is this simple method that guarantees tender ribs! We use the same method when making these Asian-inspired ribs with a hoisin glaze.
We learned how to make oven-baked ribs from Steamy Kitchen and have never looked back! So we suggest you prep the ribs, pick out a favorite movie, open a beer, and relax until done.
These baked ribs are so easy — all you need is time. We bake the ribs before adding any sauce, and then when baked, we brush on our favorite barbecue sauce. You can use the barbecue sauce suggested in the recipe below (it's so simple to make) or use your favorite homemade or store-bought sauce. (We also LOVE this sweet and tangy bbq sauce).
We use a similar sauce when making these barbecue chicken wings. You can also season the ribs with your favorite BBQ rub. We keep our ribs simple in the video and only use salt and pepper, but you can always add more flavor with a spice rub.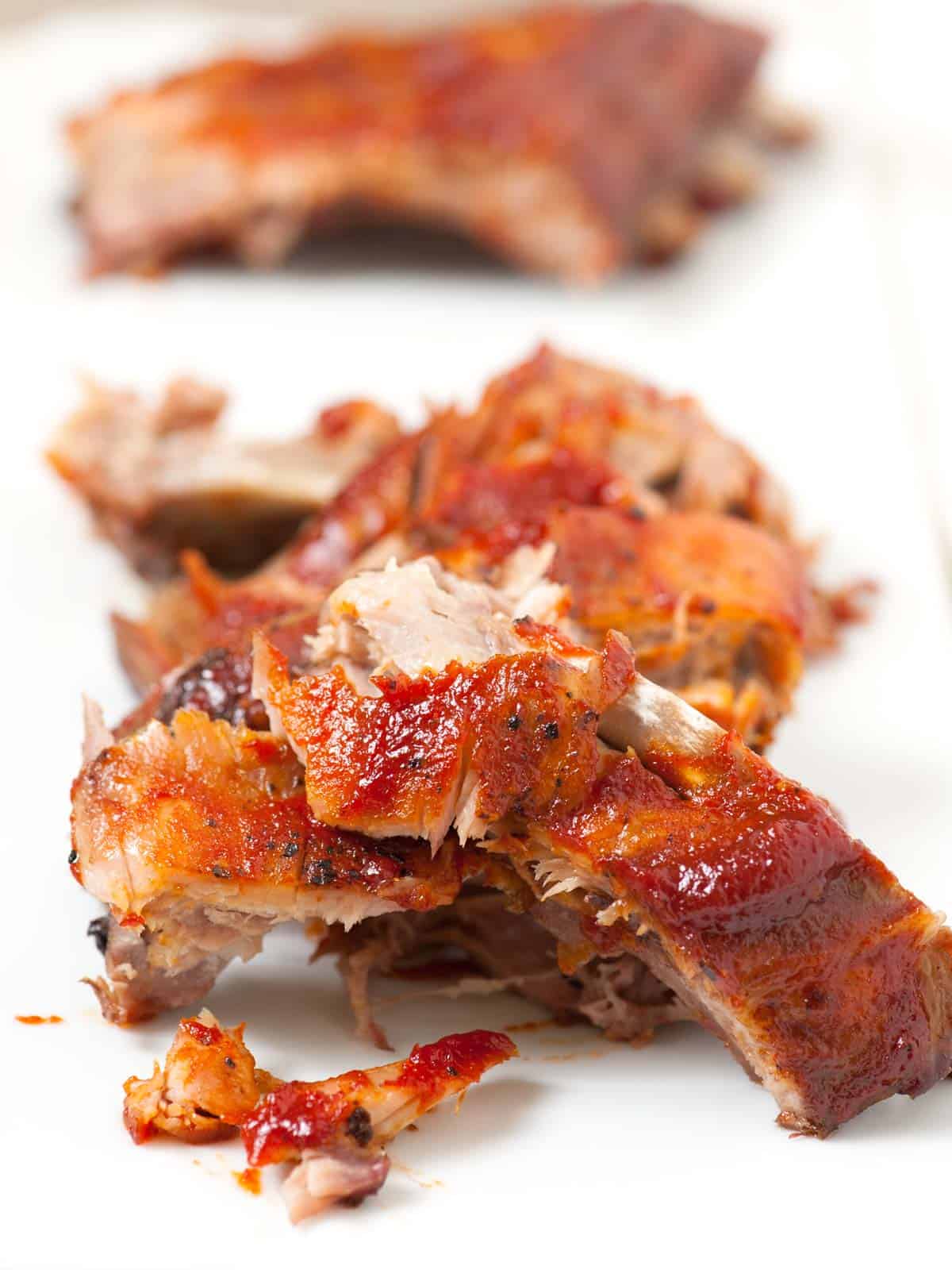 Adam's Tip: Remove the Membrane
For the most tender ribs, we remove the thin membrane covering the rack. It can be a bit tough when cooked, and since we love ribs that fall of the bone, the membrane has to go. You might find that the butcher has already removed this, but just in case, here's how to do it yourself.
To remove it, gently slide a knife under the membrane, and then use your fingers to pull the membrane away from the bones. If it is slippery or difficult to remove, use a kitchen towel to take hold of it and pull.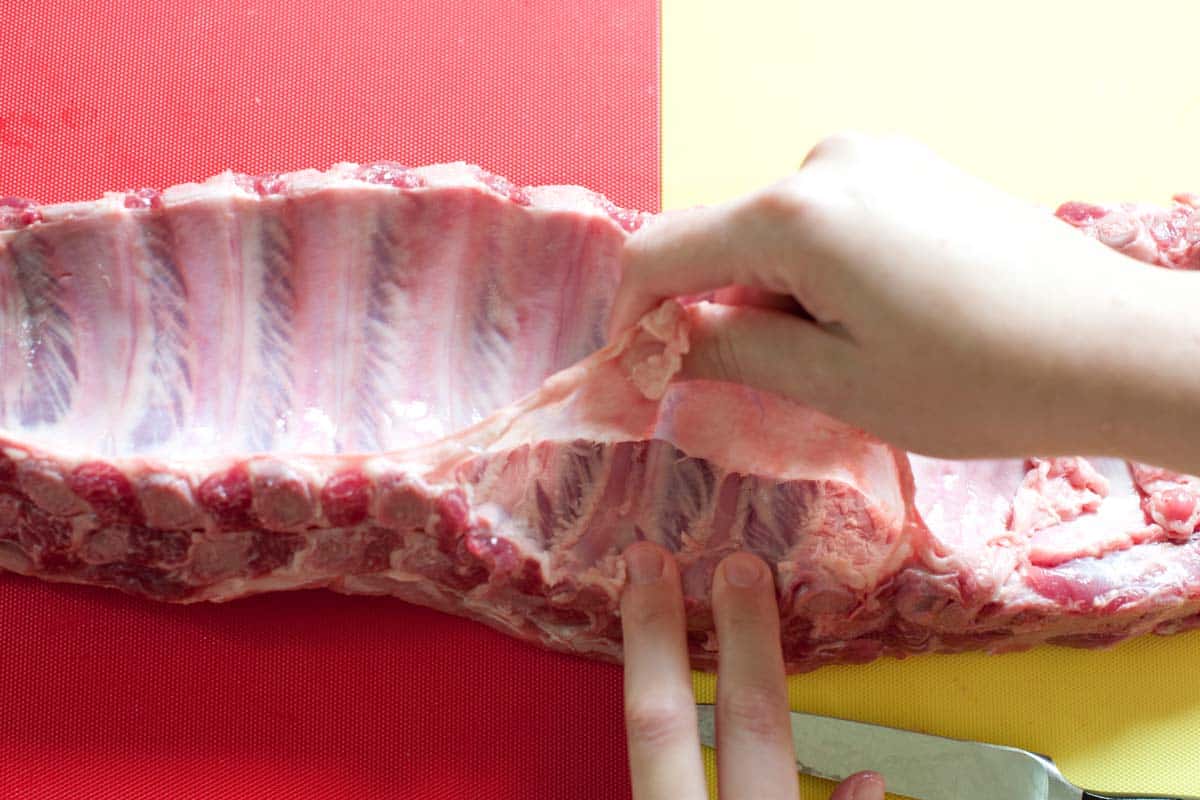 As I mentioned above, you may find that the butcher or shop you bought your ribs from has already removed the membrane. Less work for you! Also, keep in mind that removing the membrane is optional, some people prefer ribs with the membrane left intact. For ribs with some bite or chewiness, leave the membrane alone. It's all up to you!
Quick Overview: How to Cook Ribs in the Oven
Of all the pork recipes on Inspired Taste, these ribs are our most popular (these juicy pork chops being the runner-up). The full ribs recipe is below, but here's a quick overview of the method we follow in our kitchen:
Remove the membrane (remember, this ensures fall off the bone ribs).
Generously season both sides with salt and pepper. This is also a great opportunity for adding more flavor with your favorite spice rub.
Cover the ribs with aluminum foil.
Bake the ribs at a low temperature (275°F) for 2 ½ to 3 ½ hours or until they are tender.
Slather the baked ribs with barbecue sauce, and then broil (or grill) the ribs for a few minutes until the sauce is caramelized.
Sweet and Spicy Barbecue Sauce
You can use any barbecue sauce you like, but for us, we like to cook up our quick sweet and spicy sauce — it only takes a few minutes. It combines ketchup, brown sugar, chili sauce (like Sriracha), and spices. We've shared how to make it in the recipe.
I like making a double batch of the sauce and keeping it in the refrigerator. It will last up to 5 days. The sauce is perfect with chicken, on a burger, or as a dip for fries.
We make a similar sauce to coat our brown sugar barbecue wings. Another option is this homemade barbecue sauce (it's tangy and delicious!).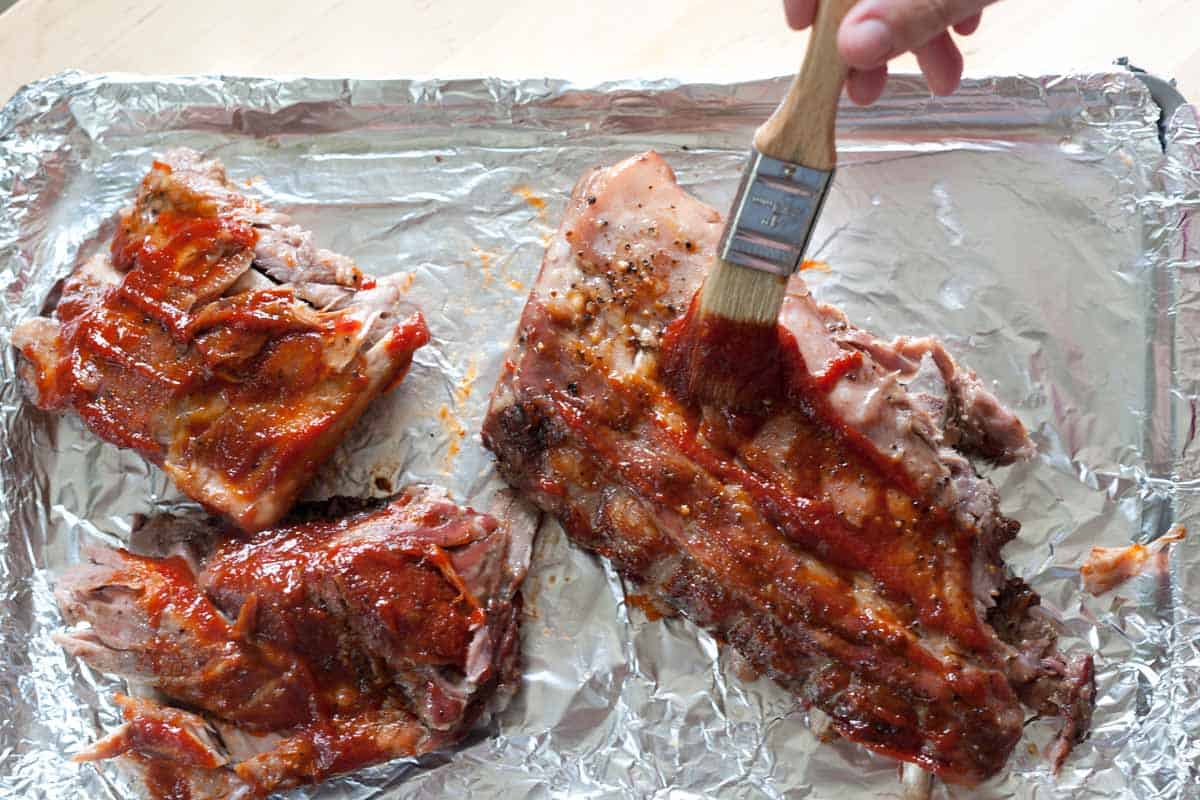 What to Serve with Ribs
We love these ribs. Here are some of our favorite dishes to serve alongside them:
More Popular Pork Recipes
We have quite a few pork recipes on the blog. Here are some of our most loved recipes: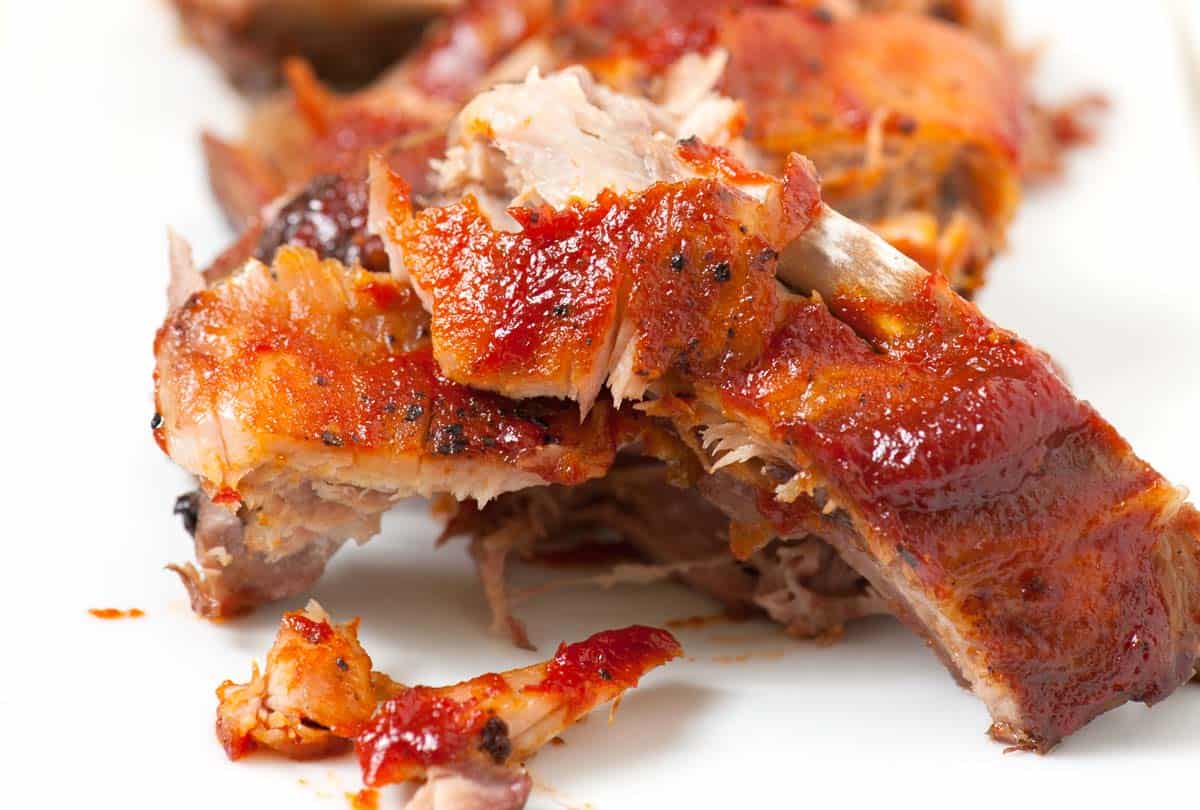 Easy Fall Off the Bone Oven-Baked Ribs
Low and slow cooking make these oven-baked ribs fall off the bone tender. Once baked, we like to add our sweet and spicy barbecue sauce to the ribs, but use whatever you love. For the most tender ribs, we remove the thin membrane covering the back of the rack. Depending on where you have purchased ribs, this may already be done for you. If not, instructions are in the notes section below.
FAQ: We call for baby back ribs in the recipe, but other types of ribs (spareribs, country-style, St. Louis-style) will work with this recipe. Cook time should be similar, we recommend that you check on the ribs while they cook to see how they are progressing.
FAQ: Doubling or tripling the recipe below should not change the recipe method or bake time. You might need to use two pans for baking.
Watch Us Make the Recipe
You Will Need
Ribs
2 to 2 ½ pounds baby back pork ribs
Salt and black pepper
Sweet and Spicy Barbecue Sauce
1 tablespoon olive oil
1/4 cup finely diced onion
1/2 teaspoon ground cumin
1/2 cup ketchup, try our homemade ketchup recipe
1 tablespoon hot chili sauce (suggestion Sriracha)
2 tablespoons light brown sugar
1 tablespoon apple cider vinegar
Salt and ground pepper, to taste
Directions
Prepare Ribs

1Heat oven to 275° Fahrenheit (135C).

2If the ribs still have the thin membrane covering the back of the rack, remove it. See how in the notes section below.

3Season both sides of the ribs with a generous amount of salt and pepper. If you are using a spice rub, add season the ribs with it now. Place the ribs, meat-side up, into a large roasting pan or rimmed baking sheet. (It may be necessary to cut the ribs in half for them to fit into the pan).

4Cover the pan or baking sheet tightly with aluminum foil (or wrap the rack in tight foil packets, and then place onto a baking sheet).

5Bake until the meat falls easily from the bones, 2 ½ to 3 ½ hours. We like to check the ribs after 2 hours to see how they are progressing. The ribs are done when the meat is cooked through and tender. You can tell the ribs are done by piercing them with a sharp knife. You should have little to no resistance. You can also gently bend the ribs to see if the meat looks like it will pull away from the bone.
Make Barbecue Sauce

1While the ribs bake in the oven, make the barbecue sauce. Heat the olive oil in a saucepan over medium heat.

2Add the onions and cook until soft and translucent, 5 to 8 minutes. Stir in the cumin and cook for an additional 30 seconds.

3Add the ketchup, hot chili sauce, brown sugar, and apple cider vinegar. Stir to combine, season with salt then cook for 2 minutes. Set aside in preparation for the ribs to finish roasting.
To Finish

1Remove the ribs from the oven, discard the aluminum foil and generously brush both sides with barbecue sauce.

2Optional: Move an oven rack near the top of the oven. Turn broiler to high and broil the ribs for 3-4 minutes, just until the barbecue sauce begins to caramelize. (Keep a close eye on the ribs while they broil so the sauce does not burn.)
Storing and Reheating

1Store baked ribs, in an airtight container, in the refrigerator for up to 3 days. Freeze, wrapped in foil or freezer paper and in an airtight container, for up to 3 months. Thaw in the refrigerator, and then reheat.

2To reheat the ribs, wrap in foil or parchment paper and place into a 300°F oven until warmed through, about 30 minutes. If you have some leftover, slather some extra sauce that's been warmed over the ribs before serving.
Adam and Joanne's Tips
Removing the membrane: Place the ribs meat-side-down on a cutting board. Locate the thin membrane covering the rack. This membrane can be tough when cooked. To remove, use a knife to gently slide under the membrane then using your fingers, pull the membrane away from the bones. If slippery or difficult to remove, use a kitchen towel to take hold of it and pull.
Multiple racks of ribs: Cooking time should not change much with multiple racks of ribs. I prefer to wrap each rack tightly with foil, and then place onto a large baking sheet. You can probably fit two racks on one baking sheet, so my oven could bake four racks at a time.
Nutrition facts: The nutrition facts provided below are estimates. We have used the USDA database to calculate approximate values. We assumed 4 servings. The information below does include the barbecue sauce and 1 teaspoon of salt.
Nutrition Per Serving
Serving Size
1/2 rack
/
Calories
433
/
Protein
26 g
/
Carbohydrate
13 g
/
Dietary Fiber
0 g
/
Total Sugars
11 g
/
Total Fat
30 g
/
Saturated Fat
10 g
/
Cholesterol
107 mg
/
Sodium
694 mg
Back in the day, we were contributors to Betty Crocker. We shared a similar version of this recipe with them. We loved it so much we had to share an adapted version with you.