15-Minute Avocado Pasta recipe! This pasta comes together so quickly with no fancy equipment needed.
It's hard to believe, but you only need avocado for the creamy avocado sauce.
No butter or cream, just avocado!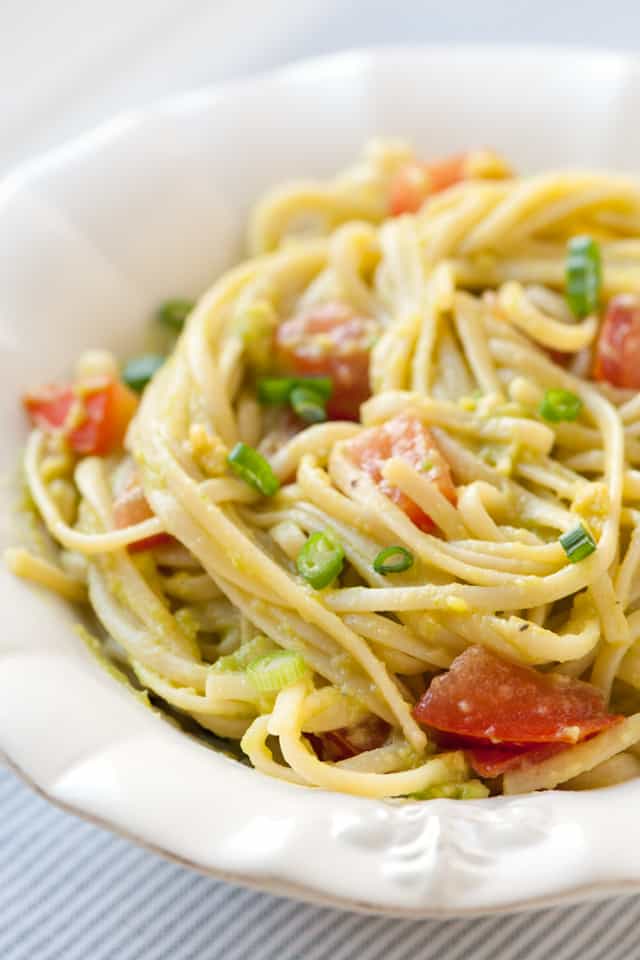 I love how easy this is and the fact that I can make it in less than 15 minutes is a real bonus, especially during the week.
You May Also Enjoy these Easy Chicken Lettuce Wraps. They are filled with honey-Dijon chicken, hummus and veggies. Quick, easy and light.
How to make Avocado Pasta
The great thing about this recipe is that in the time the pasta takes to cook, we can make the creamy avocado sauce.
Simply add avocado to a bowl and mash really well with a fork.
A ripe avocado is ripe is best for this, otherwise there won't be much flavor. An avocado is ripe when it gives slightly when squeezed. You can see our tips for buying, cutting and storing avocados here.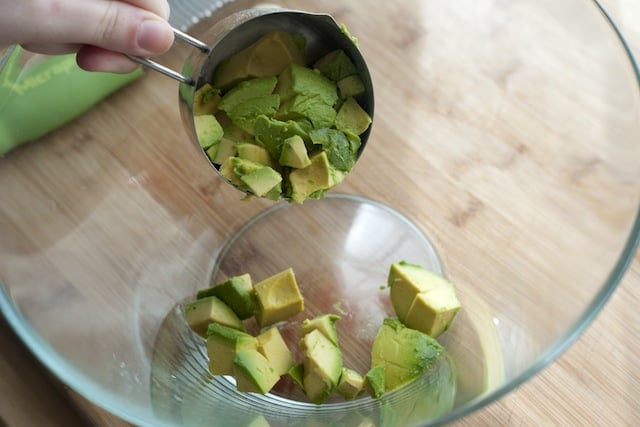 Next add a little flavor — we like fresh garlic, lemon juice, salt and pepper.
A microplane helps with the garlic — If you don't have one, just mince the garlic finely.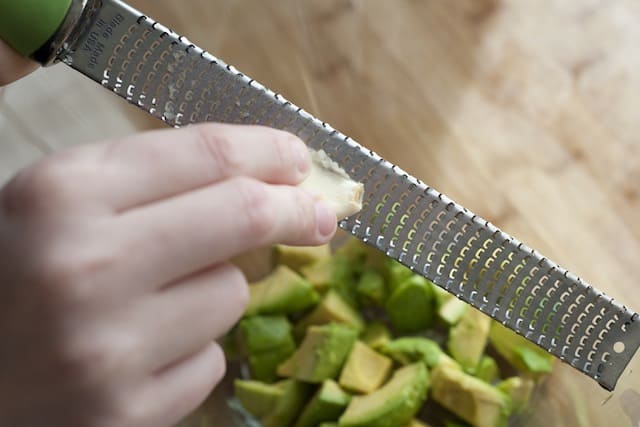 Use a fork to mash everything together. You can also use a food processor, but we hate cleaning it, so a fork is our go-to.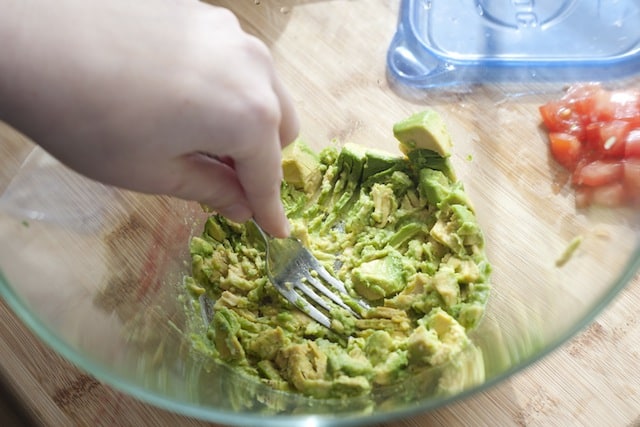 Once the pasta is cooked, add a little pasta water to thin out the sauce.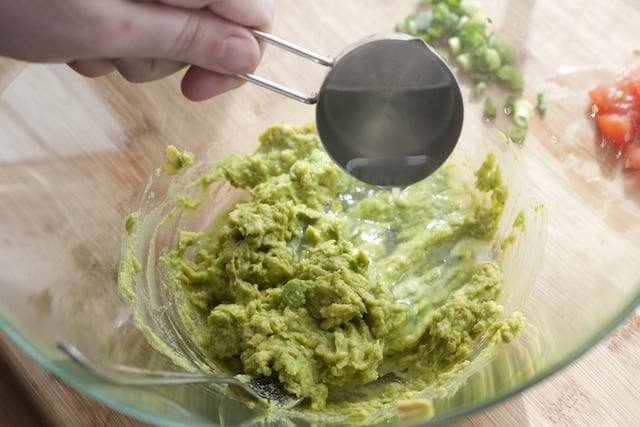 Then throw in tomatoes, chopped green onion, and the pasta.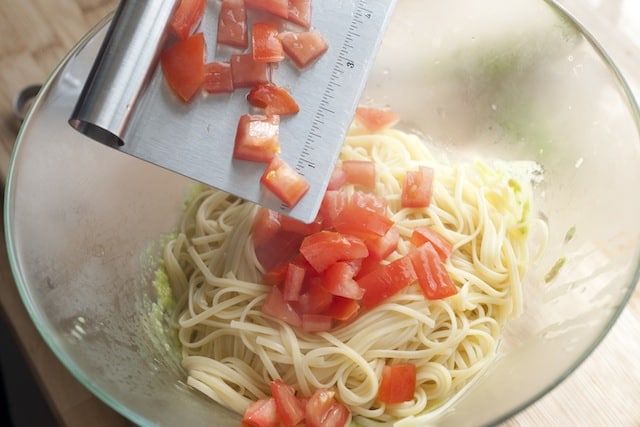 Toss well. The sauce should coat the pasta — if you need too, you can add a little more water to thin things out a bit.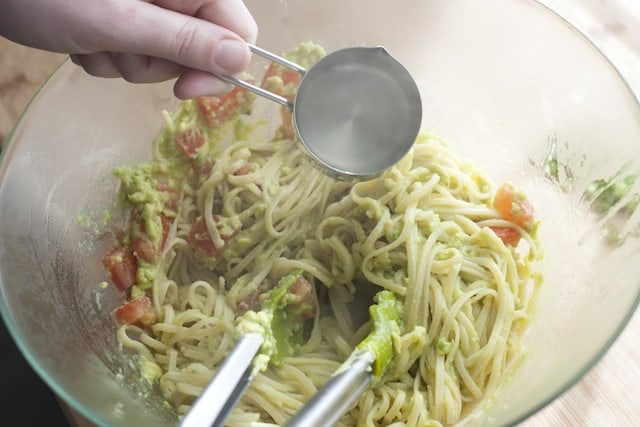 That's it! Your very own bowl of creamy avocado pasta.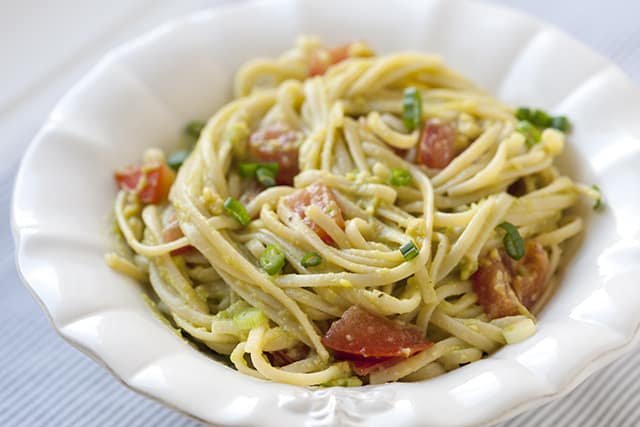 Recipe updated, originally posted February 2012. Since posting this in 2012, we have tweaked the recipe to be more clear and added a quick recipe video. – Adam and Joanne

Quick and Easy Avocado Pasta
Fast, fresh and so easy. The longest part of this recipe is cooking the pasta. The avocado "sauce" is made in minutes. In the recipe, we call for grated garlic. To do this, we use a microplane grater. If you do not have one at home, make sure you mince the garlic very finely before adding. Choosing avocados can be a little tricky, for our tips, see our thoughts on
how we choose and store avocados
.
Created By:
Joanne and Adam Gallagher
You Will Need
8 ounces dry pasta
1 medium tomato, diced
1 green onion, finely sliced
1 large ripe avocado
1/4 teaspoon finely grated garlic
Juice from 1/4 of a lemon
Salt and freshly ground pepper, to taste
Directions
Cook Pasta
Bring a pot of salted water to the boil and cook pasta according to package directions. Once cooked, reserve 1/2 cup of hot pasta water then drain pasta.
Prepare Avocado Sauce
Mash avocado in a large bowl. Stir in the garlic and lemon juice then season with salt and pepper, to taste.
Stir in a 1/4-cup of the reserved pasta water. Add pasta, tomatoes, and green onion then toss until the pasta is completely coated by the sauce. If the sauce is too thick, add a little more pasta water.