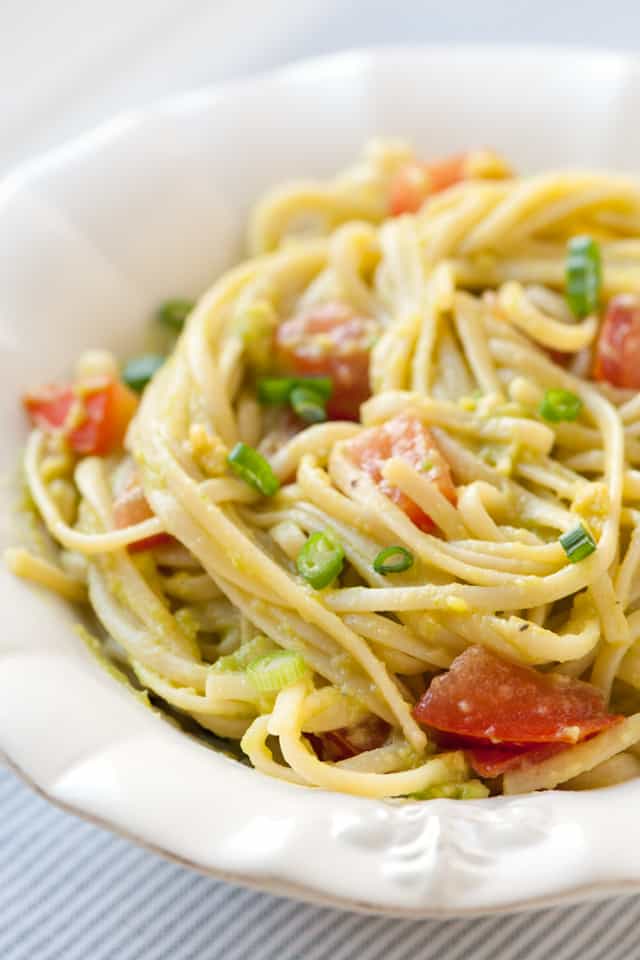 Just avocado, that's all you need for a delicious creamy avocado pasta recipe.
No butter.
No cream.
Bonus – You can make avocado pasta in less than 15 minutes.
How to make Avocado Pasta
Get some salted water on the stove and bring it to a boil then cook your pasta according to the directions on the back of the box or package. Next, de-seed and dice a tomato. We really love how the fresh tomato really freshens up the avocado pasta, but if you're not a fan, just leave it out.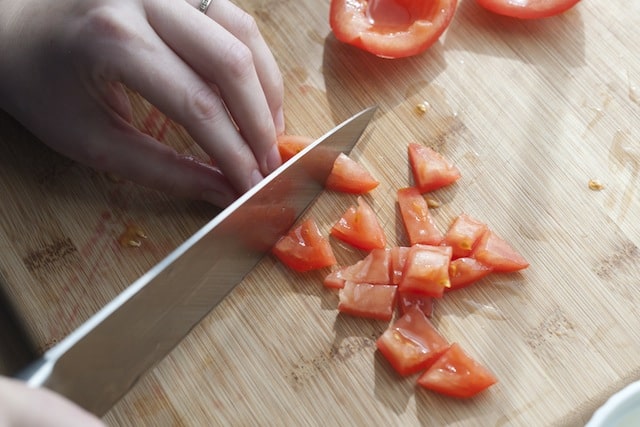 Now, find a large bowl and add a cup of avocado. Make sure the avocado is ripe for this, otherwise there won't be much flavor. An avocado is ripe when it gives slightly when squeezed. You can see our tips for buying, cutting and storing avocados here.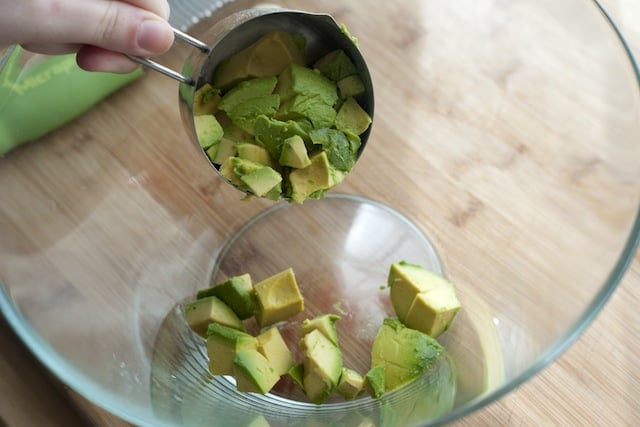 Now, use a microplane to grate in some fresh garlic. If you don't have a microplane, just mince the garlic finely. (read: we totally suggest you get one, by the way). You don;t need much garlic, here — just enough to give off a touch of spice.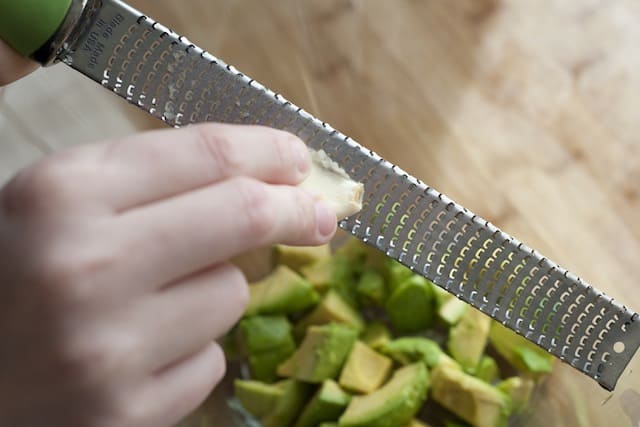 Add some lemon juice….lime juice would work, too!
… then season with salt and pepper.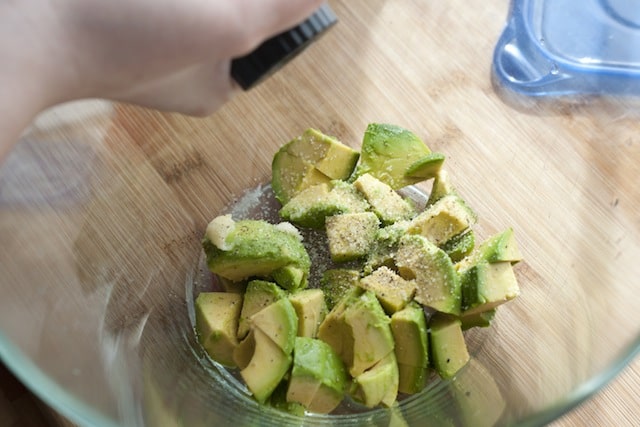 Use a fork to mash everything together. You can also use a food processor, but we hate cleaning it, so a fork is our go-to.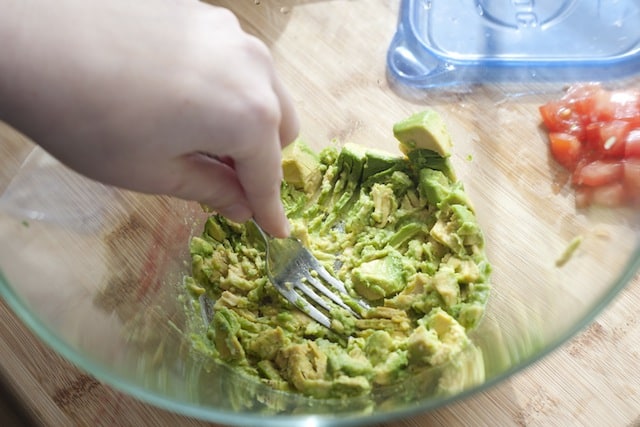 Once the pasta is cooked, reserve about 1/2 a cup of the water then drain the pasta.
Add a 1/4 cup of the reserved pasta water to the mashed avocado, this will thin out the sauce a bit.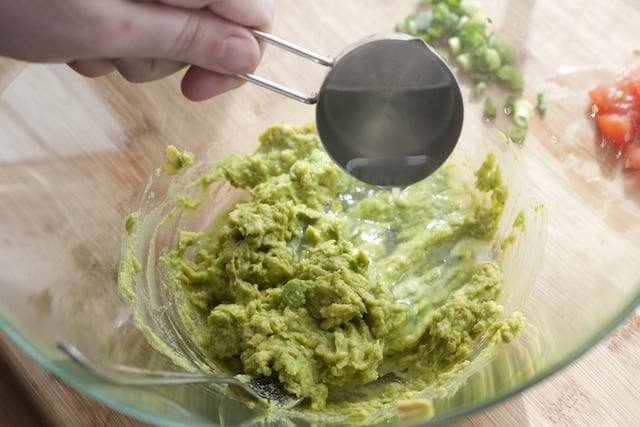 Next, add the pasta and the tomatoes from earlier.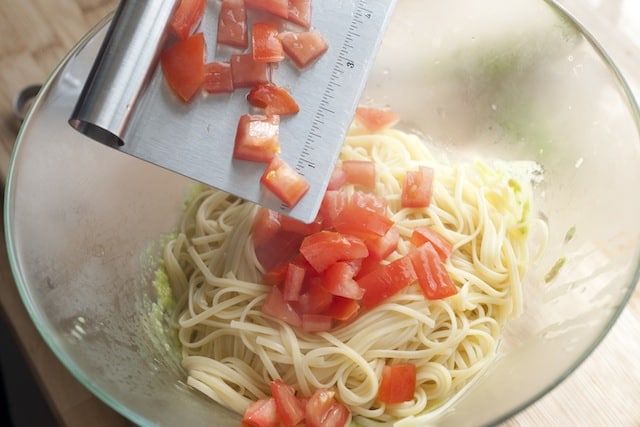 Toss, then check to see if the avocado has turned into a sauce that clings to the pasta. Add a little more water to thin things out a bit if you need to.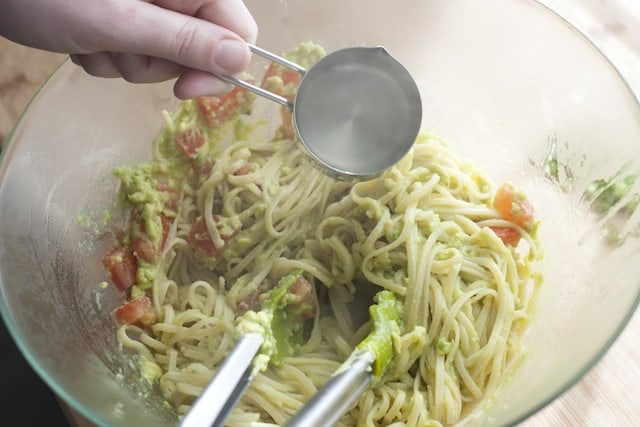 Serve in a bowl with some spring onion and there, you go! Your very own bowl of creamy avocado pasta!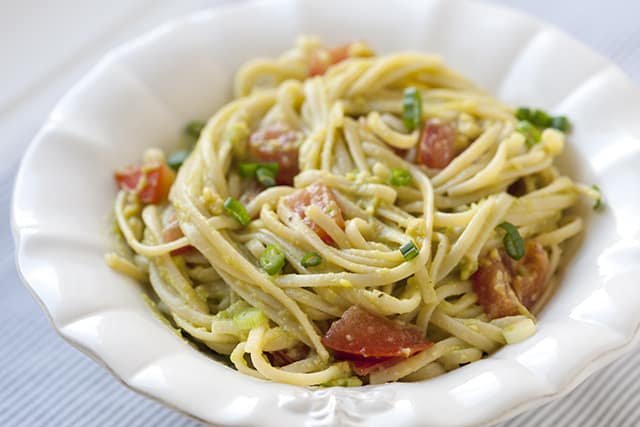 Enjoy!

Fresh and Easy Avocado Pasta
Why we love this recipe.
Fast, fresh and so easy. The longest part of this recipe is cooking the pasta. The avocado "sauce" is made in literally minutes.
What you need to know.
In the recipe, we call for grated garlic. To do this, we use a microplane grater. If you do not have one at home, make sure you mince the garlic very finely before adding. Choosing avocados can be a little tricky, for our tips, see our thoughts on
how we choose and store avocados
.
Equipment you'll need.
You will need a chef's knife, large bowl, large pot, two spoons or tongs and a microplane (optional).
Created By:
Joanne and Adam Gallagher
You Will Need
8 ounces (227 grams) dry pasta
1 large ripe avocado
1/4 teaspoon finely grated garlic
1 teaspoon lemon juice
1/8 teaspoon kosher salt
Freshly ground black pepper, to taste
1 medium tomato
1 green onion, finely sliced
Directions
Cook Pasta
Bring a large pot of salted water to the boil then cook pasta according to package directions. Once cooked, reserve 1/2 cup of hot pasta water then drain pasta.
Prepare Avocado Sauce
Cut tomato in half then scoop out any loose seeds and discard. Then, chop into small pieces and set aside.
Add avocado flesh to a large bowl then use a fork to mash into a chunky paste. Add the garlic, lemon juice, salt and a dash of pepper. Mix. Taste then adjust salt and or pepper as needed.
Combine Sauce and Pasta
Add the drained cooked pasta, about 1/4 cup of the reserved pasta water and the tomatoes to bowl. Use two spoons or tongs to toss. The avocado will turn into a thin sauce that coats the pasta. Add more reserved pasta sauce if to thin the sauce out even more if needed.
Serve with green onions sprinkled on top.